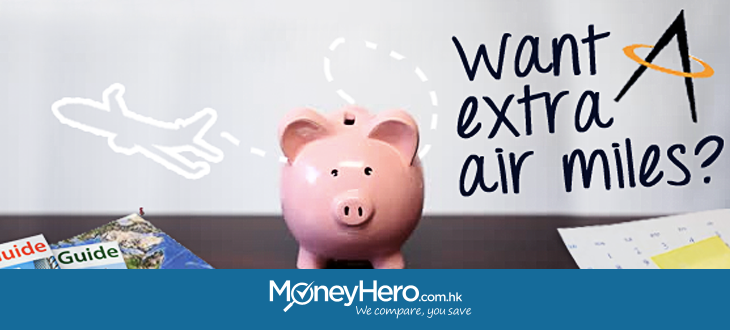 Back by popular demand, MoneyHero is going to let you in on 10 more overlooked ways to earn air miles! (If you've missed the other 10 neat ways to earn air miles, check out our previous blog post!) Why are these better than your run-of-the-mill ways to save up for air miles? The answer is simple: extra air miles earned from these methods are separated from the regular air miles accumulated on your credit card. That is to say, you air miles can be doubled! There is no reason to miss out on these tricks!
1. Eating out
A lot of people search high and low (or on the OpenRice app) for a conveniently located restaurant that serves good food. But did you know a lot of restaurants offer air miles to diners? Before hunting for a restaurant next time, go to Asia Mile's website to see which ones can help you earn extra miles! In most restaurants, you can earn 5 miles for every HKD$8 spent. That means you could earn 250 miles for a $400 meal, not to mention the regular miles you get by using your credit card. For example, if you put it on your Standard Chartered WorldMiles Card and make use of their welcome offer of HKD1 = 1 air mile, then you would have earned a total of 650 miles (250+400=650)!
If you think these restaurants must all be over-the-top expensive, think again. Average-priced restaurants like Pizza Express, La Scala, Shanghai Min and Itamae Sushi are among those that provide this bargain. (For your reference, return flights to Taiwan with Cathay Pacific cost 15,000 miles.)
Interested in the welcome offer of HKD$1 = 1 air mile promoted by the Standard Chartered WorldMiles Card? Please refer to Standard Chartered's website, and don't miss out on this great deal!
2. Dry Cleaners
As winter approaches, you might want to get your coats and blankets ready by dropping them off at the dry cleaners. Many people don't expect to earn air miles at dry cleaners, but it's true! Next time, when you use the laundry or dry cleaning service at Vogue Laundry, simply present your Asia Miles membership card to earn 5 air miles for every HKD$8 spent. Have this trick up your sleeve to boost your air miles!
3. Asia Miles iShop
Many people don't know exactly what iShop sells, but I can assure you that there are many products of good value on it! iShop is an online store that collaborates with brands like the Apple Store, and purchases made on iShop will earn you extra air miles. Who knew you can earn 0.75 miles for every USD$1 spent on Apple products? So before you go on a shopping spree, check if what you want is offered on the website! It is jaw-dropping that you can buy flowers on iShop and earn air miles with it. Gents, you know what to get for your girlfriend next time!
4. Car Rental
More and more people like to rent a car for a short getaway in the weekend or even while abroad. But are you aware of this hidden trick that can help you earn extra air miles through major car rental companies? If you rent a car at Hertz, Sixt, Avis or Crown Motors, you can earn 250 to 1000 air miles. As usual, just remember to present your Asia Miles Membership card when you collect your car. If you're renting a car overseas, you might want to consider to apply for an American Express card to enjoy more offers.
5. Magazine Subscription
Enjoy sitting on the couch and flipping through a magazine? This is the offer for you! Subscribe to Business Today, Wall Street Journal and The Economist to earn extra air miles! Quote your Asia Miles membership number to enjoy this neat deal.
6. Newspaper Subscription
Doing crossword puzzles or sudoku on the newspaper has became a daily routine for many people. Subscribe to the South China Morning Post — either the print or digital version — to earn extra air miles. Or make use of the Metro Daily app to procure additional air miles. The steps are simple: download the app, sign up as a member, and start reading! You can earn "metro points" for every article you read or shared with a friend, and "metro points" can be easily converted into Asia Miles. You don't have to spend in order to earn! Read away and earn up to 22 miles per day on the go! For more information, please refer to the website of Metro Daily (Chinese version only).
7. Booking hotel accommodation via Rocketmiles
In our previous blog post, we uncovered how to earn extra air miles on Agoda. Now, we have found another UK website, Rocketmiles, which partnered up with different airlines and allows you to earn airline miles. The site is now offering a whopping 3000 air miles/points on your first booking. So just by making a hotel reservation for 3 nights, you could receive up to 9000 Avois (airline miles of British Airways), which equals the air miles you'd need for return flights to Taiwan!
Let us break down the steps for you:
Make use the welcome offer (+3000 miles) and book the first night of accommodation (+1000 miles).
Ask you friend to create a new account (again, +3000 welcome miles) to make the bookings for the 2nd and 3rd night (+2000 miles) under a different name.
Visit Rocketmiles' website to view the welcome offer now!
8. Exchange Currency
Trip preparations are not complete without an exchange of currency. Some people might have a foreign exchange store that they frequent. But when it comes to choosing a store, you should factor in which ones can earn you an air miles bonus! Did you know you will be rewarded with air miles for exchanging money in Travelex stores across the world? The offer varies in different countries, but don't forget to flash your Asia Miles membership card the next time you visit Travelex!
9. Purchasing jewellery
Buying gold jewellery or diamond rings for weddings and engagements are sort of a given for Hong Kongers. Consider making you purchase at TSL Jewellery; a whole gold wedding bracelet set may earn you enough air miles for your honeymoon flights! Even if it's not for any special occasion, the next time you spoil yourself or your loved ones, remember to save up for air miles too!
10. Savings account
If you open a new savings account with China Construction Bank (Asia) Corporation Limited, you would be able to enjoy 2,500 Asia Miles with a deposit of every HKD$50,000. The website doesn't specify the deposit tenor required, but if you have some extra cash on your hand, why not make use of it to earn additional Asia Miles?
—
Find this post useful and want to learn more? Read MoneyHero's previous blog post for 10 more ways to earn air miles!
Feel like you've missed out on a lot? Don't worry! Like our Facebook page and MoneyHero will continue to bring you all the latest promotions and offers!
MoneyHero is Hong Kong's No.1 comparison site for financial products. If you want more information about credit cards, loans and insurance, visit MoneyHero's website now!