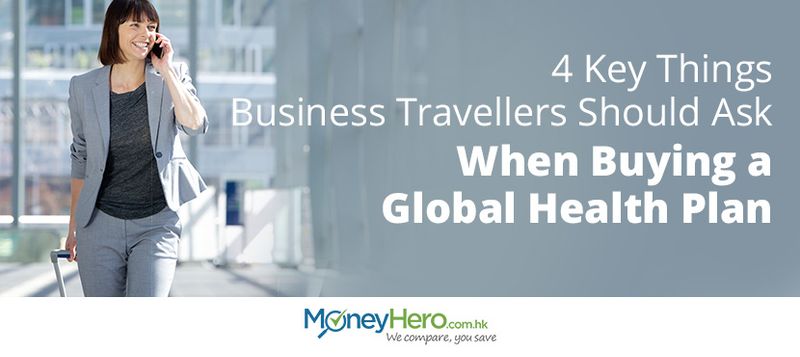 As a result of the tremendous growth of international trades, business travel becomes more common in today's world. But while flying to different parts of the world for work helps to boost your career, the cumulative travel fatigue resulting from frequent trips can put your health at risk. That's why a global health insurance plan with comprehensive coverage is so important to business travellers. Here are 4 key questions you should ask yourself when choosing a global medical insurance policy.
1)Is health-care spending high or low in the countries that I frequently travel to?
Business travellers should choose a global health plan according to the locations where they frequently travel to, as health care costs vary greatly from country to country. If you often fly to a place where medical costs are fairly low such as South East Asia, you can choose a less expensive plan with a lower monthly premium to help you keep the cost down.
Meanwhile, medical costs can be substantially high in the US & Europe. For instance, the U.S. Bureau of Labor Statistics recently finds in an annual survey that healthcare cost inflation in the U.S. rose from 2.5% last year to 3.3% this year, meaning that you have to pay more for healthcare services in the states. In this case, you should opt for a package with higher benefit limits if you often make business trips to the countries where health-care spending are substantially high.
2)Do I have insurance through my employer?
Many companies offer private health care to employees as a kind of benefit. If your employer provides you with a basic health insurance plan, you may choose high-deductible insurance plan to save money on monthly premium. However, you should make sure that you can really afford the deductible when accident happens.
On the other hand, if you are self-employed and have to bear the cost yourself, you should pick a plan with lower deductible despite the higher monthly premium payment, so that you won't be socked with the prohibitive costs when you get seriously sick.
3)My wife and I are planning to have a baby in the coming years. Are there other options of medical benefits available for us?
Some international health insurance plans provide maternity coverage for pregnancy, labor, delivery and newborn baby care in one of the most important stage of your life. Cigna's global individual health plan, for instance, will pay for the parent and baby care including hospital fees for routine childbirth, home birth as well as treatment for the newborn. However, you should be aware of any waiting period limitation stated in the health plan when considering maternity benefits.
4)Do I have to go through a long and painful process of filing a claim?
As a business traveller, you might have a busy work schedule and have to meet with clients all the time, so naturally you don't want to follow a complicated and time-consuming procedure to file a claim for medical costs incurred overseas.
That's why you should choose a global health plan with the option of direct billing for claims settlement. The health insurance company will pay the medical service providers directly, saving you the trouble of paying for the treatment yourself and doing all the paperwork to claim a refund later. In general, better look for an insurance provider offering a large network of medical facilities with direct billing arrangement, so that the claims can be settled more quickly and easily.
Cigna's Global Individual Health Plan: The Solution to the Above Questions
Comprised of three levels of cover (Silver, Gold and Platinum) and various optional modules, Cigna's Global Individual Plan provides customers with comprehensive and flexible coverage, allowing you to tailor your plan to suit your individual needs. Customers could choose from two areas of coverage: Worldwide including USA and Worldwide excluding USA, depending on their needs and the locations that they frequently travel to.
Cigna also offers various amounts of deductibles ($0 / $375 / $750 / $1,500 / $3,000 / $7,500 / $10,000) to choose from, which enables you to manage your own medical spending more easily. Together with the parent and baby care benefits, Cigna's Global Individual Plan may be exactly what an average business traveller need for health coverage.
For more details about the product, please click here or call our hotline: (852) 2866 7791 (Mon to Fri 9:30 – 7pm) for free comparison services.
For more information about Cigna, click here.
——
If you are looking for a global health insurance plan, here are some tips that you could follow when choosing the best provider: How to Choose a Global Individual Health Insurance Plan.
Visit MoneyHero.com.hk Blog for more money saving tips and financial advice. Don't forget to follow our Facebook Page!