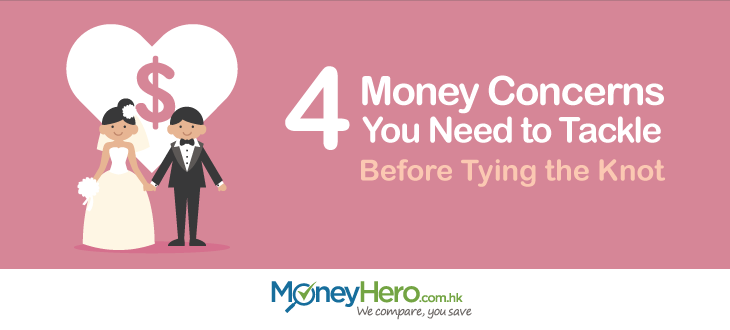 Money sure does talk. It's no secret that it seems to have the power to make or break relationships. Seen as one of the biggest causes of conflict in relationships, research from the Utah State University found that married couples who had financial disagreement with their spouses once a week were twice as likely to get divorced. If you plan to get married, you should talk with your partner and work hard to get your financial values in sync with each other. Let us lend a hand; MoneyHero.com.hk gives 4 simple tips for all engaged couples as financial marriage preparation. Good luck!
1. Get On the Same Page About Your Finances
Many couples don't talk about money issues and finances with their partners to avoid a potential argument. The more these issues are put aside, the more they come back to bite you and your partner later on, acting as an 'elephant in the room' in your relationship if left unsolved. Have a serious talk with your partner and share openly about your financial values and spending habits while being calm and sensible. Review your income, credit and debt circumstances and try to get on the same page about your finances . A healthy discussion enables you to identify the problems early on and establish a sense of trust and security.
2. Pay Off Your Debts
Bringing debt into a marriage will put enormous strain on your finances and your relationship. Hiding it at first will only create growing frustration and resentment between you and your partner. Especially in Hong Kong, sky-high property prices mean that couples commonly combine forces to apply for a mortgage together, this creates a crucial need to get your cards on the table before tying the knot. Another factor to consider is that lenders might reject a couple's application or charge a higher interest rate if the couple has a low credit score rating. That's why you should pay off all your debt ASAP, from student loans to credit cards, this will help improve your credit score. With an urgent need for cash and desire for a mortgage or personal loan, a solid credit rating will help you obtain a much more favourable interest rate.
3. Plan for the Long Term
As well as setting short term goals like travelling and that new television you've been wanting don't forget about long-term goals. Sowing the seed by starting an education fund for your children will reap benefits in the long run. Discuss with your partner about your financial responsibilities when it comes to paying the monthly instalments of your mortgage, utility bills, and other regular subscriptions you may both have. A joint bank account makes managing household bills much easier as you only need to deposit a certain amount of money into the account every month. Of course, keeping separate personal accounts is also a smart idea when it comes to maintaining financial autonomy.
Read More: Learn how to save money for your children's education
4. Protect Your Family with Insurance
Touch wood, if the worst should happen – you should at least have your loved ones insured. As critical diseases become increasingly common among young adults in Hong Kong, medical expenses are also on the rise. Investing in health insurance or critical illness insurance can ensure that your family will be financially secure in case you become too ill to work. If you are the breadwinner of your family, life insurance will provide the financial protection your family needs if you pass away. Expect the unexpected.
We all want the perfect marriage, follow the steps above you'll be heading in right direction, but the rest is up to you! Sort out your financial woes before the wedding bells ring and you'll be singing happy families for years to come! Last words of wisdom- be honest, communicate and always treat your partner with respect. Ding Dong!
——
Read More: 4 Ways to Stop Friends From Over-Influencing Your Spending
Visit MoneyHero.com.hk Blog for more money saving tips and financial advices. Don't forget to follow our facebook page!