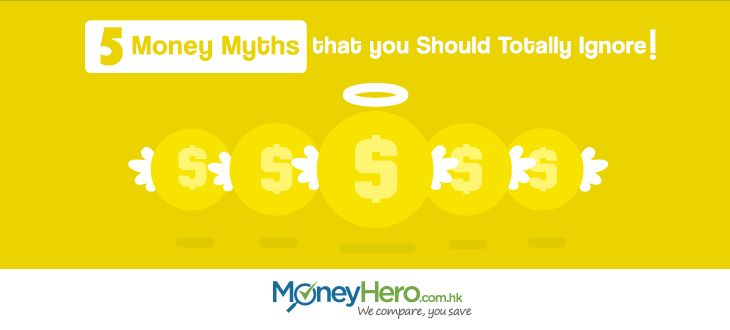 Not every piece of financial advice is correct or feasible. Please do not deny this: we do blindly follow some problematic money myths.
Traditional financial advice are usually well said. But there are indeed some fallacies. Take a look of the 5 common misconceptions about money below.
1) A university degree guarantees one's wealth. >> Really?
A university degree determines one's salary at a time. But it does not guard his or her wealth forever. There are myriads of rich people, who are not well-paid at jobs or even employed, for example,
-those who are active in the stock, commodity or bond markets;
-those who own much trusted funds
-those who live on savings from investments in order to be a full-time volunteer;
-those who earn a low basic salary but a high commission from sales
(Note: a salesperson does not require university education.)
Truly, a degree holder has more capital than one who is not. However, in reality, most of the tycoons are successful investors and entrepreneurs instead of well-paid employees. Do not feel discouraged if you are in lack of a tertiary education credential. You can still figure out some ways to gain "financial independence".
Read More: Your First Paycheck Defines your Life
2) Saving only but not spending leads one to financial stability. >> Possible?
This is the worst thought to have. Saving money is of course important. Yet, the use of savings account and fixed deposits are beyond comparable with the skyrocketing living costs in Hong Kong.
According to the official statistics by the end of 2014, the local inflation rate had been as high as 4.9%. Doubtless to say, there are not any banks offering their savings accounts with an interest rate that can possibly offset the inflation rate. To many people's discovery, an increase in wealth does not come easy.
Apart from saving up, investment is a must to try out – something that even a graduate with a finance major may not manage and learn well enough at university. It all depends on one self and the strategies used. Financial advisers or wealth managers are someone to turn to in search for investment advice.
3) Avoidance of credit cards keeps one away from debts. >> Effective?
If you repay credit card debts on time, you need not fear the interests that come along for late repayment.
Usually, the yearly interest rate for credit cards in Hong Kong reach about 40%. In other words, if you are repaying all the debts punctually, HKD$0 x 40% equals still HKD$0. A lot of cardholders have never had anything to do with the repayment of credit card interests for their whole life.
For those who use the credit cards wisely, they may have even better financing skills than those who just pay in cash. What these cardholders gain in extra are the exclusive discounts, cash back and other rewards with cards.
For instance, one pays in cash and another pays with his credit card for a commodity each worth HKD$100. Then the one paying cash will lose HKD$100 to the vendor; whereas the one paying with the card will gain 6% as cash back. To put it simple, the person gets HKD$6 back and in fact, he just pays HKD$94 in the transaction. Afterwards, the cardholder can save up something like card reward points or cash dollars.
Paying card debts on time ensures a good credit history. Loaning (e.g. mortgage loans and car loans) would be much easier from the bank's perspective towards someone with a high credibility.
In a nutshell, if one spends wisely, debt is term than never reaches their mind. Avoidance of the use of credit cards is only palliative.
Now, visit MoneyHero.com.hk for a free comparison of various credit cards in Hong Kong. Save up as much as possible with our help!
Read more: 4 Simple Tips to Spend Less on Your Credit Cards
4) Hobbies bring in money. >> Always?
Basically, this attitude is appropriate. But the point is: how much money could hobbies bring us? To be true, not all hobbies are profitable.
If you are fond of developing mobile applications as self-employed, you get the "jackpot" as this industry is quite dominant now. On the contrary, if you are producing handicrafts for business, the income you drive may be so little that it even barely covers the repayment of the mortgage.
However, you need not force yourselves to be passionate about your work. This is not workable. Say if you are truly animal advocates that help endangered species, it is not necessary for you to work at the front line as feeding them. Instead, you can work for relevant charities at their back offices as an accountant, a technician or a project coordinator as other kind of contribution.
It is totally up to you in deciding where to invest with the money you keep. Anyway, keep your work on track with a positive mindset. But never turn yourselves a workaholic!
5) Striving for income constantly is greedy. >>Justified?
It is not a kind of greediness but a sense of responsibility for living.
To be frank, if an adult cannot self-support his or her own living, it can be others' financial burdens. Consider if a person no longer bears own medical costs, mortgage, food or education, there's always someone paying for this person in sacrifices. Most probably, families and close friends are offering their helping hands.
Striving for income can reduce the financial burdens one bears. It is actually a kind of comfort to the parents who are getting older when they see their children get on their feet one day. And the situation reverses: it is now for the children to take good care of their retired old parents.
After accumulating much wealth, spending extravagantly is still not on the top priority list. The most important thing to do is: provide someone you care and love with adequacy and quality in life.
Read more: "Saving Tips: "50% Cash Back Coupon" really Better than "35% Off"?"
—
Find more ways to save money on financial products like mortgage, personal loans and credit cards by navigating Moneyhero.com.hk. Visit MoneyHero.com.hk Blog for more money saving tips and financial advices. Don't forget to follow our facebook page!