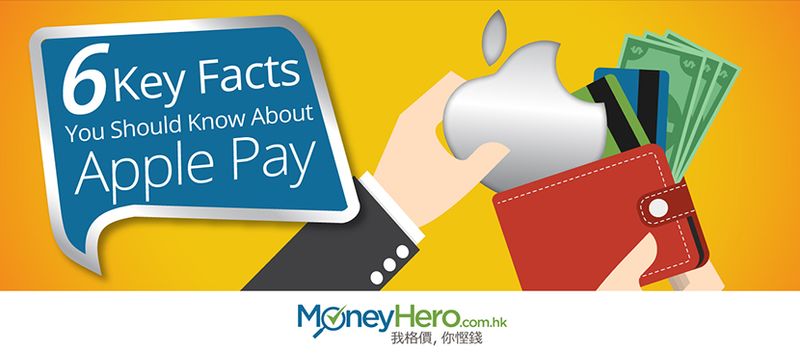 Apple's much-anticipated mobile payment and digital wallet service, Apple Pay, is coming to Hong Kong on 20 July 2016. It would be good to know some of the basic facts about Apple Pay now before you use it. Here are the 6 key takeaways you should know about this new payment system.
1. You can pay more quickly with Apple Pay
When you make online purchases with your credit card, you have to enter your card information, which could be very time-consuming. With Apple Pay, however, you can simply use Touch ID, Apple's fingerprint tech, to make a purchase online, saving you a lot of time.
2. Apple Pay is more secure
Another advantage of Apple Pay is that it is more secure. When you pay with credit cards, you have to give shop assistant the cards and may face the risk of information leakage. On the other hand, with Apple Pay, you just need to place your finger on the Touch ID button to authorize your purchase. Your credit card information remains secure. It also minimizes the risk of fraudulent use of your card even if you lose your iPhone, since your fingerprint is required for each transaction.
3. What Apple devices are compatible with Apple Pay?
You can use Apple Pay on iPhone 6 or iPhone 6 Plus both in stores and within apps.

You can use Apple Watch paired with an iPhone 5 or later in stores.

You can also use Apple Pay on iPad Pro, iPad Air 2, iPad mini 3 or 4 for in-app purchases.
4. How to load credit card information into Apple Pay?
iPhone: Apple Pay can be set up through Wallet app. Click the "+" button, and type in your credit card information according to the instructions.
iPad: Go to Settings and tap "Wallet & Apple Pay". Then tap "Add Credit or Debit Card". Follow the steps to add a new card.
Apple Watch: Open the Watch app on your iPhone, go to the My Watch tab. Tap Wallet & Apple Pay. Then follow the steps to add a card.
After your bank verifies your card, tap Next. Then you can start using Apple Pay.
5. Which banks support Apple Pay?
Apple Pay currently supports credit and debit cards from the following banks:
American Express

Bank of East Asia

Bank of China (Asia)

DBS

Hang Seng Bank

HSBC

Standard Chartered Bank
6. Which merchants are compatible with Apple Pay?
Many large retail chains are already compatible with Apple Pay, including major supermarkets (such as Wellcome and MarketPlace), department stores (such as Lane Crawford, Sincere and UNY), and restaurants (such as Genki Sushi Hong Kong, McDonald's and Starbucks)
Supermarkets: Jasons, MarketPlace, ThreeSixty, USelect, CR Vanguard and Wellcome

Convenience Stores:

7-Eleven, VanGO

Department Stores: APITA,

Lane Crawford, Sincere and UNY

Retail Stores: Apple Retail Store
Cakes & Bakery: Arome Bakery, Maxim's Cakes, URBAN
Beauty Retailer: Colourmix, Mannings and Sa Sa

Restaurants: Genki Sushi, KFC, Maxim's, McDonald's, Oliver's, Pizza Hut, Sen-ryo,

Pacific Coffee and Starbucks

Wine Store: Voi_la Wine Cellar
——
Visit MoneyHero.com.hk Blog for more money saving tips and financial advice. Don't forget to follow our Facebook Page!