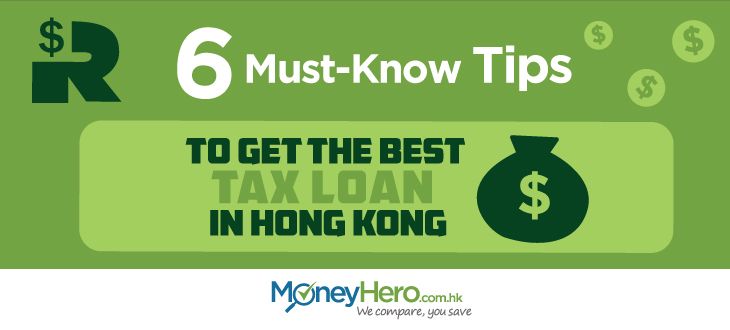 As the end of the year approaches, you'll soon be receiving those dreaded tax bills. Perhaps you didn't save enough to pay your taxes in one go and are considering taking out a loan to pay the difference. Many banks and lenders in Hong Kong offer 'tax loans' with more competitive interest and higher approval rates than regular personal loans. If you're not sure what to look for when shopping around for a tax loan, here's 6 tips to help you get the best deals in Hong Kong.
1. Compare the Annualized Percentage Rate (APR)
Don't be fooled by the low interest rates of tax loans, as they do not reflect the real cost of borrowing. Instead, compare tax loans offered by different providers using the APR, an annual rate that shows the total yearly cost of borrowing, including any fees and additional charges associated with the loan. This gives you a much better idea of how a tax loan will affect your finances over the long term.
2. Read the Terms and Conditions of Different Loans
In order to avoid taking out loans beyond an amount you actually need with a repayment period shorter than you expected, it's important to conduct due diligence on the terms and conditions of all tax loan offers. Failing to read through all the conditions of a tax loan may lead to higher borrowing costs which offset the lower rates of interest.
3. Look Out for Promotional Offers and Early Repayment Fee Waivers
If you successfully apply for a tax loan during specified promotional periods some lenders will offer you a special monthly rate of 0% and discounts on additional charges. To maximise your savings, find out which lenders offer these promotions and how long they last. If you're able to repay your tax loan early, then chose providers that offer you fee waivers for early repayments.
Read More: How to Pay Taxes in Hong Kong – A Quick Guide for Expats
4. Assess Your Ability to Repay
If you're attracted to take out a tax loan as a lower cost, alternative source of funding due to cheaper interest rates, be mindful of the repayment period. Tax loans are subject to much shorter repayment terms (12-24 months) and banks will charge you penalties for late repayments, possibly raising the interest by more than 20%. So assess whether you will actually be able to repay this loan given the shorter time bracket.
5. Improve Your Credit Rating
Whether banks approve a loan application depends on your credit rating. If you have a poor credit history, you may not be able to enjoy offers such as a preferential interest rates or an interest-free period, so make sure that you check your credit rating before making a loan application.
6. Apply For Tax Loans From Your Existing Bank
If you've been a good customer and stayed with your bank for many years, chances are that they'll offer you more favourable interest rates. They'll also process your tax loan application faster than if you went to a new bank as they already have your records on hand to make a quicker assessment.
Taxpayers should apply for a tax loan at least one week before the tax due date to avoid being penalised for late tax payments. In case you cannot be approved for the loan on time, you can always settle your tax bills with credit cards first.
Read More: Don't Forget to Pay Your 2014/2015 Tax Bill On Time!
Check out our Tax Loan Comparison Platform to find the best Tax Loan for you.
Visit MoneyHero.com.hk Blog for more useful money-saving tips and personal financial advice. Don't forget to follow our Facebook Page!