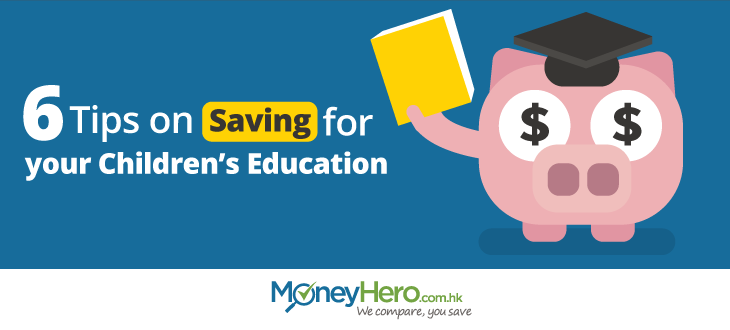 As parents, you always hope that your children will have a prosperous future ahead. Many parents scrimp and save to make sure that their children receive the best education. But if you plan ahead and set aside funds early, you can take some of the strain off your finances. In Hong Kong, many financial institutions offer savings insurance plans to help parents build education funds for their children. Here are six things you should take into consideration when preparing to finance your children's future education.
1) Determine How Much You Need to Save
Some parents might plan to send their children to private schools and international schools but they have to beware of the rising tuition fees. For example, tuition fees of Yew Chung International School is now as high as HK$183,250 a year for its primary school programme in 2015-2016, making it the most expensive international school in Hong Kong . If you want to send your children to schools and universities overseas, the annual tuition fees and living expenses are much higher than at local institutions in Hong Kong.
Therefore, parents should first decide how much they need to save before they develop a formal savings plan for their children. Bauhinia Foundation Research Centre's Child Cost Calculator is a great tool that helps you estimate how much it will cost to raise a child in Hong Kong from the first day of pregnancy to the day of obtaining his / her first degree.
2) Start As Early As Possible
The earlier you start, the better. Not only do you have more time to save for your children, but you can also enjoy the benefits of compound interest and cheaper premiums if you chose a savings insurance plan. If you wait too long, however, you have to pay higher premiums every month to reach your savings goal and policy terms would be too short to receive the benefits from your monthly payments. So, you might fall short on funds when your children are about to enter university.
Read More: INFOGRAPHIC: 5 Budget Tips for Bringing Up Your Kids
3) Know Your limit
Parents always want to provide the best opportunities for their children, but make sure you don't bite off more than you can chew. The amount of money you put aside for your children's education every month should be no more than your family can afford. In general, your monthly expense on education funds should be 10-15% of your family's total monthly income, leaving you with enough money for other daily expenses such as mortgage repayments. Try to save more when your family's finances improve.
4) Assess Your Risk Tolerance
You should assess the amount of risk you're comfortable taking and choose a suitable investment tool accordingly. A time deposit involves low risk but the interest return is also low, and cannot keep up with the increasing rates of private school tuition and inflation. Stocks, bonds and properties are high risk investment options with attractive returns, and are more suitable for experienced investors and risk takers.
Returns of savings insurance plans are not highly favourable and the actual returns you receive could be much lower than the benefits quoted by the providers. Therefore, you should choose a savings insurance plan carefully by comparing the guaranteed maturity bonus instead of the non-guaranteed ones. You should also note that these plans might not be such a convenient option when you need money urgently as some providers only allow cash withdrawals when your child turns 18.
5) Monitor Your Investment Performance Regularly
You should evaluate your investment performance regularly and adjust your portfolio accordingly. This helps you minimize investment losses as soon as possible. You can be more aggressive at the beginning with higher risk investments that could yield good returns but you'd better switch to stable investments later as you get closer to your savings goal.
6) Protect Yourself with Insurance
It is important that you purchase a health insurance or critical illness insurance plan to ensure your family will be financially secure in case you become too ill to work. You may also need a life insurance plan that helps your family cope with the enormous education expenses should anything happen to you.
Expect the unexpected. All parents want to give their children the best education but you should always remember that building up funds for your children's education requires a long-term effort. If you are still not sure what to do, don't hesitate to seek the advice of a financial planner.
Want more money-saving tips?
Read more: MoneyHero.com.hk's Top 10 Personal Finance Tips from 2015
Buy a life insurance to set your family's mind at ease. Use our insurance comparison portal to find the best deals on health insurance in Hong Kong.
Visit MoneyHero.com.hk Blog for more useful money-saving tips and personal financial advice. Don't forget to follow our Facebook Page!