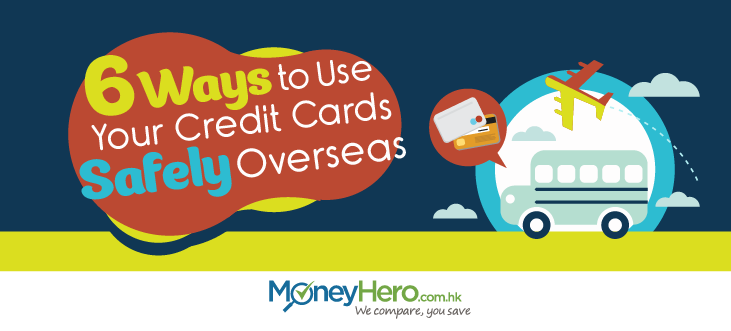 Rampant phone scams in recent months has caused concern among many people in Hong Kong. But scammers are everywhere, and you are especially vulnerable to them as a tourist overseas. Whilst abroad, many people prefer to carry credit cards as a safer and more convenient alternative to paying in handfuls of local currency. Although, in some cases you might fall victim to hidden credit card charges or more severe scenarios where your cards are stolen and used before you can cancel them. Here are some safety tips to teach you how to use credit cards more securely when traveling abroad:
1. Put your credit cards in separate wallets
To avoid receiving a monthly statement listing transactions not made by you, it's important to put your cards in separate wallets and bags. Keep those with the highest limits secured in the hotel room safe.
2. Mark down the hotline number of your card issuer
When your card is lost or stolen, you should immediately notify the issuing bank or financial institution. Otherwise, you might be liable for any monetary loss resulting from unauthorised transfers and fraudulent use of the card. Remember to read the terms and conditions of your card carefully as banks might require cardholders to notify them within a certain period of time.
3. Keep your credit card in sight when making transactions
Don't forget to make sure your credit card is immediately returned to you after any transaction, whether at a shop, restaurant or ATM and keep an eye on whoever is handling it. Otherwise fraudsters may replace your card with a fake or expired one. Be careful not to disclose any credit card information in insecure circumstances and be aware of skimming, in which a person uses a small electronic device to record your credit card details and take over your account.
4. Know the latest exchange rate and pay in local currency
When you are spending overseas, always check the bill before paying and make sure you are billed in the local currency. Card issuers usually charge 1.95% – 2% transaction fee for foreign currency spending, but the bill might be settled with a better exchange rate if the local currency depreciates. Many card issuers offer up to 2-4% cash rebate for overseas spending, which can cover the transaction fee.
Don't trust merchants offering to convert your purchases into your home currency as the conversion rate is likely to be the least favourable, not to mention that you have to give up card rewards for foreign currency spending. With the growing popularity of China Union Pay credit cards, many banks offer a handling fee waiver for Mainland China and overseas spending.
If you feel that you're spending too much on your credit cards, here are 4 simple tips to manage your addiction to plastic.
5. Make sure your hotel deposit has been repaid when checking out
Many people choose to pay hotel deposits by credit card but only realise that the deposit was not reimbursed after the leaving the country. Occasionally hotels might do an authorisation hold of your card, which means your credit line will be reduced equivalent to the deposit amount and the hold will remain on your credit card until the end of your stay. So make sure that the hotel has returned the deposit to you when you check out, as it might take up to a month before you receive the reimbursement.
6. Choose the Best Credit Card
If you are a frequent traveler, you can earn air miles and reward points by flight and hotel booking with your credit cards and enjoy rewards and airline perks including cash back, free air tickets and free flight upgrades. If you don't have an air mile credit card, Standard Chartered Bank WorldMiles Card, DBS Black World MasterCard and BEA Flyer World MasterCard are all great options.
Cardholders of the BEA Flyer World MasterCard and Standard Chartered Bank WorldMiles Card can earn 1 Mile for every HK$5 overseas retail spending, while DBS Black World MasterCard offers cardholders with HK$4=1 Miles on overseas spending and 1.20% cash back. With the card that best suits your needs, you can definitely gain more rewards while spending at the same time! Use our powerful tool to compare transaction fees and cash rebates of different credit cards and find the best credit card deals in Hong Kong!
Keep this in mind: don't lower your guard when traveling overseas. Use your credit cards safely and carefully to avoid financial loss! Choose a travel insurance that best suits you so that you can enjoy safe and worry-free travels!
——
Want to know more saving tips for travel?
Read more: 8 Insider Tips to Book Cheaper Trips Online
Find more ways to save money on financial products like by navigating Moneyhero.com.hk. Visit MoneyHero Blog for more money saving tips and financial advices. Don't forget to follow our facebook page!