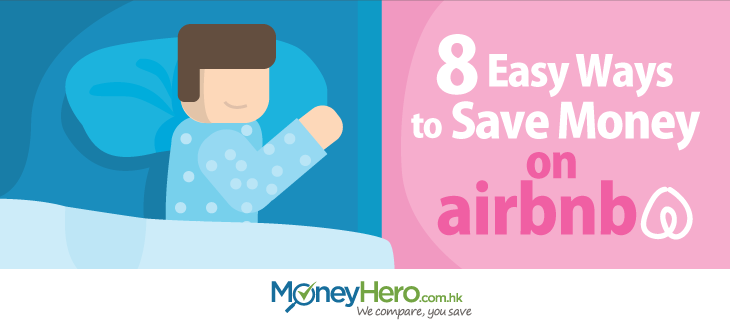 Airbnb is an online platform that lets you list, find, and rent accommodation in more than 190 countries. The cost of renting an apartment or house on Airbnb is generally lower than staying at a guesthouse or hotel. These 8 tips will help you save even more with Airbnb.
1. Join the Airbnb Referral Program
If you've never stayed at an Airbnb before, you can enjoy US$25 off your first booking by clicking on a referral link from an existing member. If you don't know anyone who is a current member, you can find referral links online.
Once you become a member you can also invite friends to create Airbnb accounts and receive US$25 in travel credit when they complete their first booking, with value of US$75 or more. Remember to use these travel credits within one year or they will expire. Read more about the referral program here.
2. Bargain with the Host
It is always a good idea to choose a host with high response rate and read reviews before you book any accommodation on Airbnb. Avoid instant booking and send the host a request for approval.
You can also take this opportunity to ask the host about amenities (such as the speed of wi-fi connection) and bargain with them. Ask the host politely for a discount if you intend to stay for a longer period.
3. Check the Address of the Accommodation
Before you book a place on Airbnb, you're only able know the general location of the host's accommodation. The exact address will be disclosed to you only after you have completed the reservation process. Therefore, you should check the map and ask the host for detailed directions and information about transportation options before making any reservation.
If the apartment you booked is too far from the city centre, or is difficult to find, you might have to spend extra time and money on trying to get there.
Read More: 8 Insider Tips to Book Cheaper Trips Online
4. Read Carefully About Cancellation Policie

s
Hosts can choose among three standardized cancellation policies (Flexible, Moderate, and Strict) concerning the refunds and penalties for cancellations.

– Flexible: you have to cancel the reservation 1 day prior to arrival to get a full refund (except service fee).
– Moderate: you have to cancel the reservation 5 days prior to arrival to get a full refund (except service fee).
– Strict: you have to cancel the reservation 1 week prior to arrival to get a 50% refund (except service fee).

With this in mind, make sure you read the hosts' cancellation policies and avoid booking places from hosts who have strict policies if your itinerary is still unclear.
5. Beware of Services Fees and Cleaning Fees
Every time you book a place on Airbnb, you have to pay a 6-12% service fee, which is non-refundable when you cancel the reservation. Service fees can only be refunded when the host cancels the reservation.
In general, the higher the subtotal of reservation, the lower the percentage, so it would be a better deal for guests who plan to stay for a longer time.
Apart from that, some hosts might also charge a one-time cleaning fee which can add up to more than HK$100. These listings might not be ideal options for short-term rentals (1-2 days).
6. Make Sure You're Aware of Local Taxes
Airbnb collects and remits occupancy tax (or a hotel tax or a room tax) on behalf of hosts in locations such as Chicago (4.5%), Paris (0.83€ per person per night), Amsterdam (5%) and India (14%). Hosts in some other locations may incorporate the tax into the nightly price, or ask the guests to pay it in person.
In addition, value added tax (VAT) is charged on Airbnb's service fees for users from the European Union, Switzerland, Norway, Iceland, and South Africa while Japanese Consumption Tax is charged on Airbnb's services fees for users from Japan. VAT may be included as an additional amount over and above the total Airbnb service fee.
These small expenses can add up to big costs. In that case, you can compare prices of guesthouses and hotels on Wimdu, Roomorama, Hotels Combined or Trip Advisor to see if there are cheaper options.
7. Search For Airbnb Coupon Codes
Find Airbnb coupon codes on websites such as hotukdeals.com to save more. You can enjoy a discount by entering the coupon code when making a reservation. You should note that these coupon codes have different expiry dates, terms and conditions. It's worth noting as well that earned travel credits can't be used at the same time as coupons.
8. Choose the Right Credit Card
Choose the credit cards that allow you to earn miles and rewards points faster every time you spend on your credit card. If you have an eligible American Express Card, you can enjoy HK$300 off for your first booking on Airbnb with a min spend of HK$1,200. You just need to enter coupon Code 'AMEXHK' and the first 4 digits of your American Express® Card upon checkout. Learn more about the offer.
Meanwhile, from now on until December 31 2016, you can earn an extra 5 Membership Rewards points on every HK$1 you spend with the designated American Express Card (such as the Centurion Card, The Platinum Card and the American Express Platinum Credit Card) when booking for any Airbnb accommodation. Read more about this offer.
Standard Chartered Asia Miles MasterCard offers a faster year-round earning rate of as low as 1 mile for every HK$4 spent on dining, online and overseas category and 1 mile for every HK$6 spent on other categories. Read more about the offers of this card here.
You can also earn 2.4% cashback on overseas spending with HSBC Gold Card, Union Pay and Diamond Union Pay credit cards while Fubon Platinum/Titanium Card offers up to 20X bonus poitns on overseas spending.
With this Fubon card you can enjoy 20X bonus point for Taiwan transactions, 8X bonus points for transactions in Japan/ Korea and 4X bonus point for other overseas transactions.
Find out more about which credit cards can help you save when spending overseas with our convenient comparison tool now.
If you'd also like additional protection besides Airbnb's cancellation policies, then choose a travel insurance that best suits you, so that you can enjoy safe and worry-free travels.
——
Read More: 6 Ways to Use Your Credit Cards Safely Overseas
Read More: Frequent Flyers can now Stretch their Miles even Further & Faster
Visit MoneyHero.com.hk Blog for more useful money-saving tips and personal financial advice. Don't forget to follow our Facebook Page!