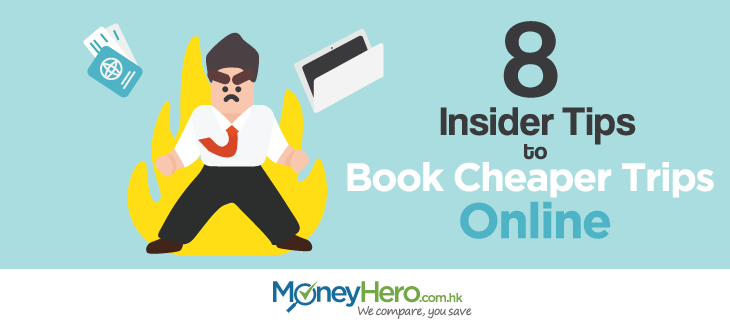 Cheap flights and Couch-surfing has become increasingly prevalent in Hong Kong in recent years, enabling countless travelers to save up more for their trips. However, the cheap fares usually mean less comfort and not everyone enjoys couch-surfing. In fact, there are many ways to book cheaper airfares and accommodations online. Here are some of money-saving tips presented by MoneyHero.com.hk so that you can find the best travel deals and enjoy a memorable trip.
1. Clear Your Browsing Data Before Booking
Some flight or hotel booking websites might install an invisible site tracker that records the visitors for every subsequent time they return to the same page. These websites will raise the prices slightly when the visitors have returned twice or more as the frequent visits imply a considerable interest and a high probability to make the trip. That's why we suggest you to clear your browsing data including your cache, cookies and history before returning to these websites. You might also restrict or block cookies by changing the your browser cookie settings to avoid the stealthy price rises.
2. Make Good Use of Air Miles Credit Cards
Booking flights and hotels provides a great chance for you to earn air miles and reward points. If you travel frequently, you should make good use of the air miles credit cards with the best rewards so that you can gain airline perks including free air tickets and free flight upgrades.
You might consider applying for an air miles credit card if you don't have one. Standard Chartered Bank WorldMiles Card is a great option as new cardholders can enjoy as low as HK$1=1 Mile for the first two months and later earn 1 Mile for every HK$5 local and overseas retail spending. American Express' Cathay Pacific Elite Credit Card and DBS Black World MasterCard are also other great alternatives as they offers cardholders with HK$6=1 Mile on local spending and HK$4=1 Mile on overseas spending. Expenses on flights and hotels are inevitable, so why not make use of them to earn air miles and reward points? You can definitely save more and gain travel perks while spending at the same time!
Read More: Earn Air Miles by Paying Your Utility Bills!
3. Check for Extra Charges Upon Hotel Room Rates
Hotels in some countries do not provide all the prices clearly on their websites. Several hundred HK dollars for a double room might look attractive but the odds are that the hotel will charge you a service tax, a peak season surcharge and a hotel occupancy tax when you arrive. Therefore, it'd the best if you read the fine prints clearly. Visit the official website of the country for travel and tourism information, which will usually list the taxes and additional charges that a hotel can make. You might also ask your friends who have visited the country previously to get a general idea.
4. Read the Cancellation Policy Carefully
Some hotels will charge you a deposit for hotel room reservation so you should check to see if the deposit is refundable. Some the hotels only provide partial refunds even though you have given more advance notice of cancellation. That's why you should avoid paying the deposit if you are uncertain about your check-in dates due to, for instance, an unconfirmed flight or your friend's late reply. Check the cancellation policy of the hotel to see if refunds would be provided upon cancellation.
5. Compare the Prices of Services for Overseas Internet Access
Everyone wants to stay connected to the Internet all the time and share the photos on social media with their family and friends even when traveling abroad. If you want to get internet access anytime anywhere, you can pay for a data roaming service from local telco operator or purchase a prepaid SIM card after your arrival. However, you should note that additional charges will be imposed if your data roaming usage exceeds the limit.
Pocket wifi egg rental services are another cheap and easy option for you as they offer super fast 4G coverage in most countries. In most cases, one wifi-egg is enough for your family and friends to use and the price is fair (as low as around HK$40 per day)!
6. Plan your Itinerary Before Picking your Stay
You should never only consider the prices when looking for hotel accommodations. If you pick a hotel that is far away from your planned scenic spots, the transport fares might well offset the money you have saved for a cheaper room rate. Sometimes, hotels in convenient location with easy access to different tourist attractions could be a better choice even though the room rates are a bit higher. Therefore, you should plan your itinerary and check the map before you book a hotel for accommodation.
7. Make Reservations for Restaurants or Attraction Tickets
If you plan on going to a renowned restaurant during your trip, you'd better make reservation as early as possible since customers might have to wait for weeks or months for the booking. This is the same for famous tourist attractions such as museums and historic sites. You can buy the tickets in advance to avoid the endless queue for admission tickets. In addition, you should also check the closing dates of these scenic spots as some spots are open seasonally while some might be closed for renovations. You should check these information three weeks before you leave so that you won't travel a long way for nothing.
8. Find Out the Highlight Events and Festivals
Apart from the weather conditions, you should also check the events and festivals calendar of your destination. Be sure to include these events in your plans so that you can get to understand deeper the local customs and culture. You can choose a time when local festival and celebrations are held such as the Chilli festival held on 5-6th September in New Mexico and the Mardi Gras Parade held during February in New Orleans and Sydney. Some cities might organize Halloween Parties on 31st October. So you should search for events held during your visit, which can bring you a more exciting and memorable trip. Lower prices for flights and hotels could mean a boring period without much events and celebrations so you should weigh up the cheaper fares and a fruitful trip when planning your trip.
——
Read More: 8 Easy Ways to Save Money on Airbnb
While you can cut the expenses for many things, there is one thing indispensable – Travel Insurance, which allows you to travel the world at ease. Find more ways to save money on financial products like travel insurance and credit cards by navigating Moneyhero.com.hk. Visit MoneyHero Blog for more money saving tips and financial advices. Don't forget to follow our facebook page!