With so many things to do, places to explore, things to buy and food to eat, as a couple you'll never get bored of spending time together in Hong Kong. But like in most international cities, a busy lifestyle in Hong Kong can be expensive. The team at MoneyHero.com.hk knows this all too well, which is why our personal finance experts have put together a series of 10 comparison tables to help couples like you save money while enjoying life in Hong Kong.
To kick start the series we wanted to share a comparison of the best credit cards for movie loving couples.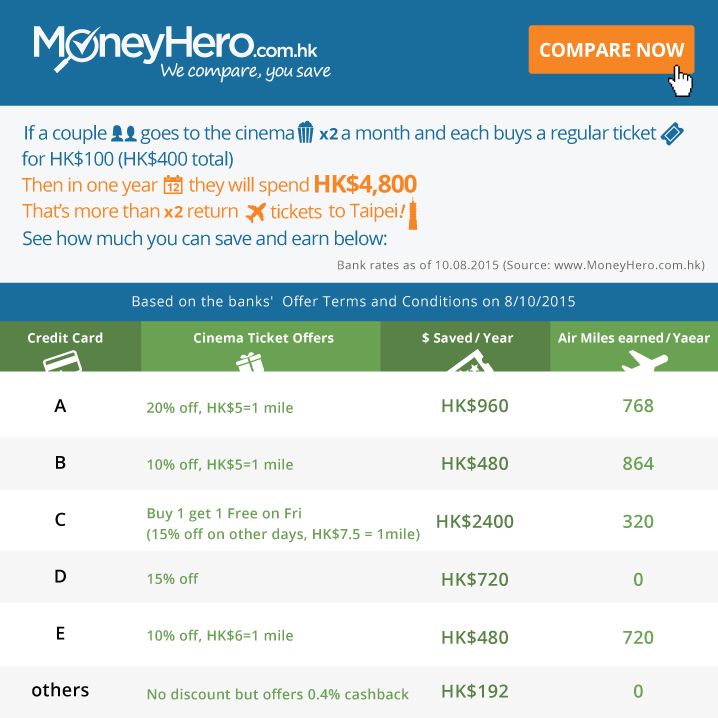 Want to find out which cards actually offer you those deals? Then check out our credit card comparison portal here.
If you're not such a fan of the movies but interested to learn more about earning air miles, then check out the best cards for racking up miles

here

.
Most Popular Movies On Right Now:
1. Office
2. Everest
3. The Intern
4. Maze Runner: Scorch Trials
5. The Martian
Visit MoneyHero.com.hk Blog for more money saving tips and financial advice. Don't forget to follow our Facebook Page!