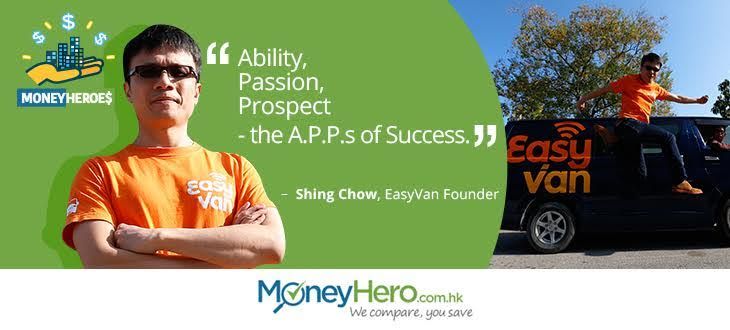 Shing Chow goes "where there is no path and leaves a trail." Cliche? Maybe. Applicable? Very. You've heard the name EasyVan, which was founded in October 2013, being thrown around in the last few years, and probably founder Shing Chow's inspiring journey, of raising funds as a professional gambler to begin the mobile logistics leader. However, you might not have heard of Shing's incredible money-saving tips and wealth-generation practices, both of which are important factors to maintaining and building success. MoneyHero.com.hk was fortunate to be able to get an interview with Shing, and brings you the founder's unique insights on success and being financially savvy.
SUCCESS OVERVIEW
Q: How do you define success? And what is your mantra for success? This can be a quote or a description of a common practice that you have in attaining success.
A: I measure success in terms of A.P.P. – Ability, Passion and Prospect. Ability in regards to what you can do, Passion in what you do and Prospects in terms of potential. If you manage to find something that has these three aspects, you will find success.
Q: You come from very humble roots and in fact have competed tirelessly in poker for 8 years as a professional gambler to save up HK$30 million to begin your own business, so on a scale of 1 – 10, how atypical (with 1 being the most normal/typical, and 10 being the most extraordinary/different), how would you describe your journey to success?
A: First, we are far from being successful. We are still pretty much an underdog in every single market we compete in. We do have a chance of winning and becoming truly successful, but that is not guaranteed yet, and will still take a lot of sweat and tear.
As for originality of my path,i believe i have taken the road less travelled,and i am quite proud of that. Giving myself a 9 here.
Q: Do you see an analogy between playing poker and building up EasyVan? Are there inspiration or learning that you had gained from poker that you have brought to the EasyVan model as well as the Internet industry? Were there times that you wanted to "fold" in the face of struggle, but instead, pursued forward?
A: One thing that I learnt from years of poker is the importance of grit, the perseverance of keep going despite all odds. I have made a sizable amount of money from poker, but what most people don't know is that I made almost none in the first four years of playing that. I was a consultant before and was earning decent salary, but when I switched to poker, I was barely making minimum wage, for FOUR years. But I preserve, and continue to put in efforts day in and day out, and eventually was able to get really good at the game.
The same thing applies to building up a tech company. There are innumerable obstacles along the way. Servers get hacked. Funding dries up. Employee leaves. Competitors blacking mouthing you. It takes a lot of grit to become successful eventually.
Q: You want to become the largest logistics fleet in the world by 2016 (as mentioned in a previous talk) and plotting for fifty new cities for this year! You're currently in 24 cities (APAC cities and many cities in China). It is now 2016 – do you think you have achieved being the biggest logistics company since launching at the end of 2013? Is there anything else, anything more you'd like to see? Things that you think can be done even better?
A: We are not in enough cities yet! We just opened Beijing and Wuhan this year, but we are still far away from being the largest logistics company. But then again, 2016 has not ended yet.
One thing that i have regretted is not expanding to China quick enough. It took us a year to realize we should expand to China. We were too slow.
Q: When you began to fill the gap between van drivers and users who wanted an efficient way to move their belongings, you started EasyVan as a way to connect the two parties. How long did it take for you to decide to tackle this industry/area, which was new at the time?
A: You could say it took me four years, or you could say it took me just one night. After quitting poker in 2009, I kept searching for a project that i could dedicate the rest of my life to. I want to spend the rest of my life creating value, instead of spending it on a zero sum game. It took me four years to come up with the idea of EasyVan. And the night it happened was when I realized how mobile internet is going to change the efficiency of mobile assets. I believe that was the biggest opportunity of my life and wasted no time in starting it.
COMPARISON & CHOICES
Q: What are your top three money-saving techniques, any hints or tricks you can share, that has helped you professionally and personally?
A:
Spend below your means.

Try to develop your mind, which usually don't cost that much, than to buy world possessions, which you will quickly get adapted to.

Work more so that you don't have time to spend money

Q: What was the last item that you bought where you actively compared prices? When making more significant purchases and financial decisions, do you compare products and how do you do your research?
A: I can't recall the last time i made a significant purchase. And if I do, i go to internet for research.
Q: It's probably safe to say you lean towards more saving than borrowing when beginning a business – having saved years from the professional poker career, isn't it? Can you expand your view on borrowing vs. saving when first starting a business?
A: I don't borrow. Borrowing against tomorrow to satisfy the needs of today is a bad habit.
Q: Which of the following savings objectives is most important to you?

Providing money for family (to older generation)

Buying property

Retirement

Further study

Children's education and savings

Travel / luxury items

Emergency funds

Car
A: Financial independence to pursue the things that matter to me
GETTING PERSONAL WITH SHING
Q: IF you had one superpower…what would it be? (Yes, there can only be one!)
A: Teleportation. I like seeing new places, but i hate getting on plane.
——
Inspired? So are we. Stay tuned for more insights on how to be financially savvy, from our incredible Money Heroes series.
Read More: "Keep Learning! Keep Sharing!"—Ken Chan, Marketing Director of ICGX
Interested in personal finance? Check us out at www.MoneyHero.com.hk to compare & save. Like us on Facebook for weekly giveaways.