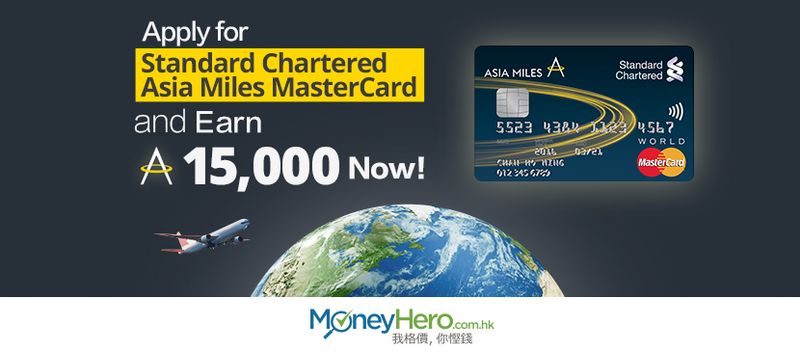 Standard Chartered Bank recently announced it has partnered with Asia Miles to launch their first co-branded credit card in Hong Kong. With attractive welcome offers and rewards, the Standard Chartered Asia Miles Mastercard now enables cardholders to earn air miles faster by spending with credit card and using banking services.
From 1 March to 31 May 2017, new cardholders who now successfully apply for the Standard Chartered Asia Miles Mastercard can also enjoy a rate of HK$0.5 = 1 mile as welcome offer and earn up to 15,000 miles for eligible spending of HK$7,500 in the first 2 months of receiving the card! Then you can enjoy HK$2 = 1 Mile for the subsequent spending of HK$30,000 and earn 15,000 miles. In total, you can earn up 30,000 miles for eligible transactions of HK$37,500 accumulated within the first 2 months of card issuance.
Moreover, miles will be automatically credited to your Asia Miles membership accounts with no mileage conversion fee. You can also enjoy a faster year-round earning rate of as low as 1 mile for every HK$4 spent on dining, online and overseas category and 1 mile for every HK$6 spent on other categories, starting from the 3rd month onwards from the date of card issuance.

It should be noted that you need an Asia Miles membership account before you apply for this card. But even if you don't, you can simply make an application through their website.
Apart from the credit card rewards, cardholders can also earn Asia Miles on designated banking products and services such as deposits and mortgages simply by spending with the card in the month. New Priority Banking customers who set up a time deposit of HK$1,000,000 for at least 4 months can earn 60,000 Asia Miles while existing customers can earn 30,000 miles by making a time deposit of HK$1,000,000 / US$100,000 / RMB 200,000 / CAD 200,000 for 6 months. They can even earn up to 100,000 miles for a 12-month deposit. In addition, up to 700 miles will also be rewarded to cardholders every month. Customers who draw a mortgage will also be rewarded with up to 314,000 miles.

Want to compare more credit cards in one go? Check out our credit card comparison portal now.
——
Read More: DBS iGO Rewards VS Asia Miles: Which is Better?
Visit MoneyHero.com.hk's Blog for more money saving tips and financial advice. Don't forget to follow our Facebook Page for more useful news and deals!