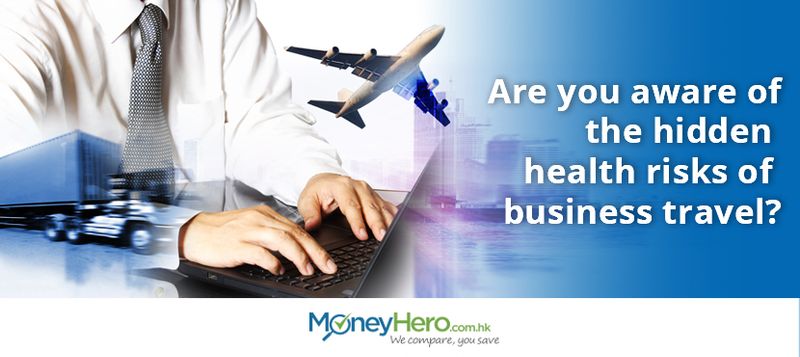 While traveling to different parts of the world for work is exciting, the negative health effects that frequent business travel brings should not be overlooked. Studies have found that people who travel extensively for business are likely to be less healthy. Since no one can foresee when a disease will strike them, if you do not prepare in advance, it might catch you off guard both physically and financially when you are abroad.
According to the study conducted by researchers from the University of Surrey and the Linnaeus University, jet lag can lead to stress, fatigue, sleep problems and gastrointestinal diseases. Frequent travel also accelerates aging and increases the risk of heart attack, stroke and deep-vein thrombosis. In addition, they found that frequent flyers absorbs higher amounts of radiation and are more likely to lead unhealthy lifestyles such as poor diet, lack of exercise and excessive drinking due to flying and constant movement. In short, as glamorous as business travel may be, it is accompanied by considerable health risks. Therefore, business travellers should seriously consider an international health plan that provides coverage for the essential medical benefits in other countries.
Why an international medical insurance is so important for you?
Alex, an expat works in a trading company in Hong Kong, had a business trip to the US last year. A few weeks after his arrival, he started to find changes in his bowel habits and noticed there was blood in his stool. After a medical consultation and a PET scan, Alex was diagnosed with stage III colon cancer. He was advised to undergo an emergency surgery to remove the tumor and receive additional treatments with chemotherapy to lower the risk of the cancer's return. He and his family were hit hard not only by his illness, but also the huge hospital bills – the average cost of colon cancer surgery is around US$31,738 and the cost of chemotherapy ranges from US$45,997 to US$46,220 on average, depending on location and the lengths of treatment. The cost was so enormous that Alex and his family found it hardly affordable.
How global health insurance coverage protects you?
Fortunately, Alex purchased a global health insurance plan a few years back and the doctor he visited was included in the plan's network. All he needed to do was to call the insurance company's hotline before receiving treatment. The representative of the insurance provider will review the information provided. Once the case has been approved, the representative will immediately arrange a cashless hospitalization for him. With the option of direct billing for claim settlement, he didn't have to follow a complicated procedure to file a claim for the medical expenses incurred, saving him the hassle of paying the treatment himself. That's why business travellers should always get prepared for the unexpected!
How to choose your Global Health Insurance Plan?
A comprehensive international medical insurance policy can give you extensive coverage for different kinds of illness and medical services, saving you a lot on healthcare costs. When choosing a global health plan, you should check if the global health services network is large with a wide scope of benefits. You should also make sure the insurance company provides the option of direct billing and 24-hours hotline services to customers around the globe.
Cigna's global individual health insurance plan, for example, offers a large network covering an enormous number of medical facilities and professionals from countries around the world, allowing you to get the most suitable health services whenever you need it. Cigna's core policies also provides comprehensive coverage for inpatient, day case surgery and accommodation costs with cover for cancer and psychiatric care.
Cigna's Customer Care Team will be available 24/7/365 to provide multilingual sales and service, helping you to find the top-tier hospitals and doctors near your location and pay them directly wherever possible. For more details about the product, please click here or call our hotline: (852) 2866 7791 (Mon to Fri 9:30 – 7pm) for free comparison services.
For more information about Cigna, click here.
——
Still confused about how to find the best international health insurance that suits you most? There are some key questions you should ask yourself when choosing a global plan.
Read More: 4 Key Things Business Travellers Should Ask When Buying a Global Health Plan
Compare International Medical Insurance using our comparison tool and save up to HK$ 12,000* per year on your medical insurance.
Visit MoneyHero.com.hk Blog for more money saving tips and financial advice. Don't forget to follow our Facebook Page!