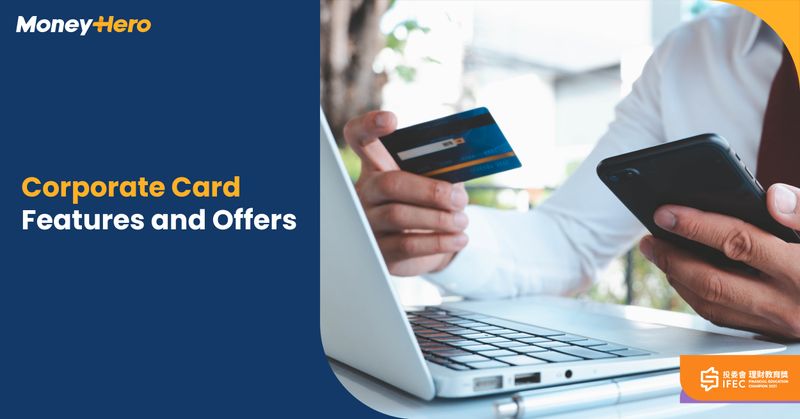 For businesses of any size, corporate cards provide a good solution to manage all business expenses. Moreover, for employees, corporate cards make it easy and convenient to pay for travel and entertainment and also gives you five-star treatment during your journeys. In Hong Kong, one of the most commonly used cards are the American Express Corporate Cards, therefore, let's take a look at the features and benefits of these corporate cards and find out how to get one for your business.
What is a corporate card?
Corporate cards are credit cards used to cover expenses incurred for business, including spending on air tickets, accommodation, car rental, meals and incidental expenses related to official businesses. They are designed to help separate business expenses from personal expenses and allow a company to keep track of all business-related spending easily.
What's the difference between a corporate and personal credit card when using for business expenses?
| | |
| --- | --- |
| Corporate Credit Card | Personal Credit Card |
| Companies provide employees with the card for payment of business-related expenses and covers the bill every month. | You apply for the card and pay the monthly bill yourself. |
| You don't have to wait for reimbursement for business expenses incurred on this card. | You need to submit your own expense reports and get reimbursement, so are out of pocket for a while until you are repaid |
| You don't use your personal credit limit (therefore can be much higher as it's a corporate limit) | You use your personal credit limit |
| Both the individual and company earn rewards | Only the individual earns rewards |
What are the features and benefits?
With corporate cards, employers can consolidate all company-wide spending to manage cashflow more effectively. Here are some benefits and privileges that corporate cards usually offer:
1. Spending Rewards
Companies can earn rewards for everyday business expenses, which in return help your business save money. For instance, BEA Corporate Card holders can receive 1% cash rebate for eligible transactions. American Express, on the other hand, rewards customers with 1 Mile for every HK$15 local spending charged to the Corporate Card.
2. Business Travel Benefits
Many banks offer travel-related insurance benefits to corporate card members to make sure you are well-protected when you take on business trips. For example, customers of Shanghai Commercial Bank Platinum Business Credit Card enjoy 20% discount on Travel Insurance Plans while the American Express Gold Corporate Card provides up to HK$2,000,000 for Business Travel Accident to card members at no additional charge.
3. Corporate Account Management Tools
You can access their online services 24/7 and manage your expenses securely with an online account. You can keep track of all current unbilled charges and view statements anytime anywhere.
4. Privileges and Services
Banks offer corporate card members with worldwide customer care services and global emergency support. Customers with BOC Commercial Card and HSBC Business MasterCard, for example, can enjoy premium airport lounge service. Hang Seng Platinum Commercial Card also provides card holders with complimentary local airport limousine service.
Do I qualify for a corporate card?
To qualify for a corporate card, your company should have a valid Hong Kong Business Registration, have been in operation for a specified period of time and meet the annual revenue requirement. For instance, only registered companies in Hong Kong that have been in business for at least 2 years are eligible to apply for the American Express Corporate Card. The companies should also have annual revenue of HK$8,000,000 and above.
Some banks might require the applicant to be the owner, partner, shareholder, CEO, managing director or executive of the company and that the company is the existing Private/Enterprise Banking customer. Make sure you meet the bank's requirements before filling out the application form.
How do I apply for a corporate card?
To save time and make the application process faster, you can apply online through the banks' websites. Alternatively, you can also visit the bank and apply in person.
What kinds of documents do I need to apply for a corporate card?
The documents you need to submit vary among banks and depend on the nature of your company (For example, whether it is a sole proprietorship, partnership or a limited company). The documents you might need include:
Your Business Registration Certificate

Certificate of Incorporation

Constitutional Documents

HKID Card / Passport of the Sole Proprietor / all Partners / the Director(s) who signed on the above Certification and Declaration and the Authorised Card User(s)

Bank statements of the Applicant for past 3 months

The latest Profits Tax Demand Note from the Inland Revenue Department / audited financial statements (within 18 months) / management accounts (within 12 months)

Other asset proofs (e.g. Time Deposit advice(s), Mortgage Loan statement(s) and etc.)
What are the best deals?
Use MoneyHero's comparison tool to find the best corporate credit card for your business!
Use our powerful comparison tool now to find the best corporate card in Hong Kong!
Want to open a bank account but not sure which bank you should choose?
Read More: The Ultimate Guide to Opening a Bank Account for Expats
Visit MoneyHero Blog for more money saving tips and financial advice. Don't forget to follow our Facebook Page!