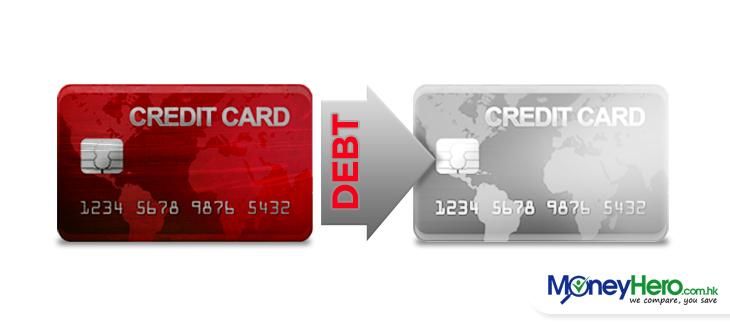 A balance transfer, if done right, is one of the most effective and efficient strategies of a debt management plan. Simply put, this is the process of shifting money you owe from one card to another.
There are two ways a balance transfer credit card can help you.
Debt consolidation
Keeping track of how much you owe can be very tricky. This is especially true if you're trying to pay off two or more credit cards with different APRs (annual percentage rates or interest rates), different monthly repayment amounts, and different due dates.
Having your debt combined into a single amount with a single interest rate that you pay off every month is much more efficient, and can greatly reduce your stress. One way to do this is to get a balance transfer credit card, which can do wonders for your debt management plan.
Lower APR
The general rule in debt is that the longer you take to pay it off, the more it costa you. It's a vicious cycle: a high balance means you'll get slapped a high amount of interest every month. Add to that, a high annual interest rate and a balance amount that never seems to shrink.
A lower APR helps reduce your balance faster because you get charged with a lower interest amount every month. You'll be able to pay off your debt faster and it will cost you less.
Your next step is figuring out how to choose the best balance transfer credit card. Take note of the following details before committing:
Balance Transfer Fees
Balance transfers are not free, but there's a maximum amount you'll get charged for the service. Say your bank is charging you 3% up to a maximum of HKD 65 and the balance you want to transfer is HKD 8,000; 3% of that amount is HKD 240, so you'll get charged with HKD 65. That's 0.81% of the transfer amount that you're paying for the service.
Promo Rate Duration
The preferential rate, which can be as low as 0% to 1%, will not be made available to you for an indefinite amount of time. Depending on your bank, these will usually be given to you for a minimum of six months up to 30. Approval from the bank would also depend on your credit history and standing.
After the promotional period, you'll be given the regular APR, which is, of course, higher. What you want is to choose a card that buys you enough time to significantly lower your balance.
Credit Score
Balance transfers will reflect on your credit history and are almost definitely associated with debt. There's a possibility that your credit score takes a hit when you do a balance transfer, so you'll have to decide which matters more to you: getting out of debt faster or maintaining a high credit score.credit score,
Balance Transfer Credit Cards in HK
The Citibank Balance Transfer Program gives you a Preferential Annual Rate as low as 5.8% for the first 6 months. There are no handling or early settlement fees, and you won't have to fill out any documents to get approved.
Besides credit cards, you can also look around for the best personal loans for a balance transfer.
China Construction Bank's Balance Transfer Program gives you 12% off on your interest rate and a loan of up to HKD 1.2 million or 21 times your monthly salary, whichever is lower. You can also have as long as 84 months to pay off the loan if you need it.
As with any debt repayment plan, make sure you can stick to your program before opting for a balance transfer. Not carefully weighing your decision can throw you back to right where you started and might cost you more in the long run.