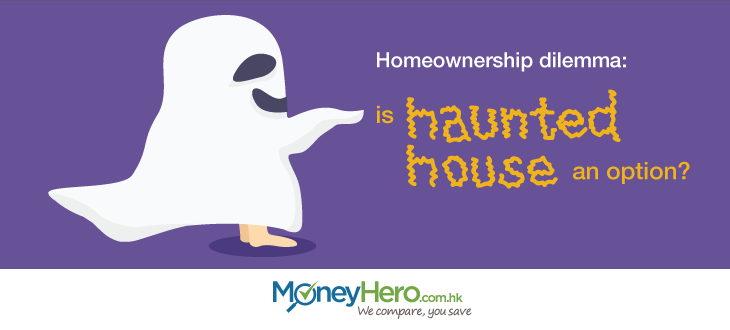 In Hong Kong, a decent flat can be difficult to come by. If you're not superstitious and not a believer of feng shui, would you go so far as to consider buying a haunted flat? The asking price of a haunted properties is usually 20-30% lower than the average market price. If that sounds appealing to you, let MoneyHero tell you how to know whether a house is haunted or not and what other things you need to pay attention to.
By haunted properties, we mean a flat that someone was killed in. It doesn't matter if the death is a result of murder or suicide, and whether it is an accident or man-induced. If somebody leaped to death, committed suicide by burning charcoal, was murdered during a home invasion, was killed in a fire, was killed after being raped, or murdered for his money, as long as the death occurred in the house, the flat will be deemed as a "haunted property".
But what about death by natural causes? There are sometimes news reporting that an elderly's decomposed body was found in a flat. If that is the case, the flat would be classified as a "semi-haunted house" too.
Records of haunted properties are held by real estate agents and banks
Want to check whether the house you're planning to buy is haunted? You might think that the government would be in possession of a list of haunted houses. But the fact is, the Land Registry do not have a record of haunted houses and such information will not be shown on the sales agreement, except in the event that the flat is involved in criminal cases like murder during home invasion, or if drugs were found in the flat, then the Land Registry would have a record of that in the deed of sales.
So how to check whether the flat you intend to buy is a haunted house or not? Under the Estate Agents Ordinance, there is no specific clause that states the agent is responsible for enclosing whether a property is "haunted" or not. Besides, interpretation of "haunted" is different in each case and for each person. So, it is best to ask your agent before you fork over the initial down payment. What's more, some banks would blacklist these "haunted properties", which will lower the chances of you obtaining a mortgage, or in a worse case, only a very short loan tenor will be granted. In these unusual cases, buyers would then realise the flat they're buying is a haunted property.
But how to check in advance whether the flat you're after is haunted or not? A lot of real estate agencies upload information of haunted properties on their website. So you can actually check with a few clicks. After some online research, MoneyHero found that areas with the most haunted houses are Kwun Tong and Tuen Mun. So homeowners, be aware!
Top 9 "haunted" Housing Estate in Hong Kong
| | |
| --- | --- |
| Sau Mau Ping | Sau Mau Ping Estate (74 cases) |
| Kowloon City | Tung Tau Tsuen (41 cases) |
| Ap Lei Chau | Lei Tung Estate (38 cases) |
| Tuen Mun | Tai Hing Estate (36 cases) |
| Yuen Long | Long Ping Estate (35 cases) |
| Sham Shui Po | Mei Foo Sun Chuen (34 cases) |
| Tuen Mun | Yau Oi Estate (33 cases) |
| Wong Tai Sin | Wang Tau Hom Estate (30 cases) |
| Shatin | City One Shatin (30 cases) |
(*Source: http://www.hk-compass.com/)
Make a killing by renting it out!
Although a lot of people would be scared just by the sound of a haunted flat, but there are still many people who purchase haunted properties for renting out. Joseph Ng, the "King of haunted properties" in Hong Kong, is famed for his investment in haunted flats. He frequently acquires haunted properties and leases them out. According to an earlier report, he owns 10 haunted properties and all of them are rented out. One of the properties, a low floor flat in City One Shatin (Block 48, Flat G), opened at HK$2.95m, and the market price is now HK$3.2m, i.e. an 8.5% increase. The asking price of another high floor flat in Tuen Mun Town Plaza Block 2 has also gone up from HK$2.4m to HK$2.6m (an 8.3% increase).
Under the Express Flat Allocation Scheme, the Housing Authority also regularly sell haunted properties at a price lower than the market. So if you're not superstitious, haunted properties can be a fair option for first time homeowners with a limited budget.
—
Find more ways to save money on financial products like mortgage, personal loans and credit cards by navigating Moneyhero.com.hk. Visit MoneyHero Blog for more money saving tips and financial advices. Don't forget to follow our facebook page!