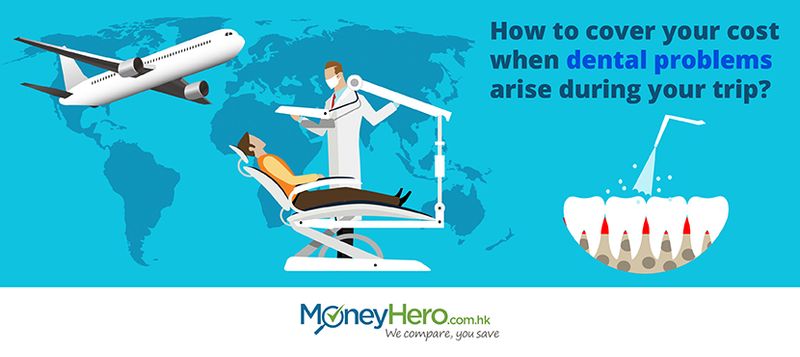 When choosing a health insurance plan, most people give priority to standard medical benefits such as coverage for hospital charges, inpatient treatment or even medical evacuation. But very often coverage for dental care is overlooked. While dental problems may seem trivial compared to other health issues and injuries, the cost of dental treatment has been rising in many countries. If you always fly around the world for travel or work, a global health plan with coverage for dental care will save you tons of money.
Key Facts About Oral Health
According to World Health Organization (WHO), about 60-90% of school children and almost 100% of adults around the world have dental cavities, which is one of the major cause of tooth loss.

15-20% of middle-aged (35-44 years) adults suffer from severe periodontal (gum) disease, which may result in damage to the soft tissue and bone that support the teeth and, in the worst cases, tooth loss.

Complete loss of natural teeth is widespread and globally, about 30% of people aged 65-74 have no natural teeth.
How much does dental care generally cost around the world?
According to a report published by Health Affairs in July 2016, dental care costs in the U.S. are projected to increase by 5.3% on average for the coming nine years. Meanwhile, the U.K. government also announced that charges for for NHS dental treatment, the publicly funded local health system, are set to rise by 5% this year. Costs of dental treatment vary between states and charges of private dentists are not standardized. However, costs are generally higher in countries in Europe and North America than in other regions.
How does global health insurance coverage protects you?
Tom is an expatriate who works in a global company based in Hong Kong and flies five or six times a year to business conferences held in various countries. Two years ago, he felt a sharp pain when biting with his back teeth during a trip in the U.S. and later found that one of his wisdom tooth was impacted, which resulted in an infection and swollen gum tissue around the affected tooth. What's worse, the impacted wisdom tooth resorbed the roots of the second molars to an extent that both the wisdom tooth and the second molar had to be removed. In the end, he needed a private extraction to remove both teeth. The cost of teeth extraction was about USD700. He also had a dental implant to replace the missing second molar, which cost him about USD3,000, meaning he had to pay approximately USD3,700 in total.
Luckily, he had purchased a global health insurance plan many years ago. He immediately contacted the insurance company's customer care team which helped him to find a high quality dental clinic nearby and paid in full for the extraction and placement of dental implants. Since then, he became more aware of his oral health and visited the dentist twice a year for a regular checkup. With the plan's coverage, he could now receive the dental treatments without being beset with financial worries!
Cigna Global Individual Health Plan Is Your Best Option
To ensure you receive the best treatment for your dental conditions, a global health plan with coverage for dental care is indispensable.
Cigna Global Individual Health Plan provides customers with core inpatient plans which covers them for essential hospital stays and treatments such as surgeon & consultation fees and hospital accommodation. Apart from that, Cigna also allows customers to add optional modules including International Vision & Dental, which covers a wide range of preventive, routine and major dental treatments.
Customers under Platinum plan will receive full coverage for dental treatments such as dental check-ups, X-rays, extractions, root canal treatment as well as surgical procedures. Placement of dental implants, dentures and crowns are also fully covered under Platinum plan.
In addition, Cigna also pays for the beneficiary's routine eye examination, spectacle lenses, frames, contact lenses and prescription sunglasses, lowering your cost of eye care and prescription eyewear significantly. For more details about the product, please click here or call our hotline: (852) 2866 7791 (Mon to Fri 9:30 – 7pm) for free comparison services.
For more information about Cigna, click here.
Compare International Medical Insurance using our comparison tool and save up to HK$12,000 per year on your medical insurance.
——
Visit MoneyHero.com.hk Blog for more money saving tips and financial advice. Don't forget to follow our Facebook Page!