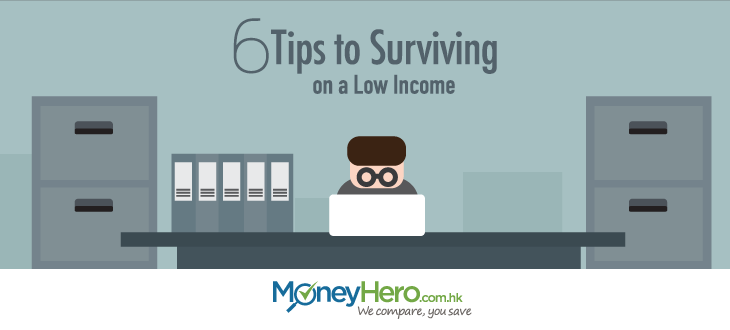 A recent joint study by New Youth Forum and New Century Forum found that the median monthly income of fresh university graduates in Hong Kong has dropped by 17% from HK$13,158 to HK$10,860 over the past two decades, despite the 51% cumulative inflation rate in the city.
Forum member and Hong Kong Community College lecturer Chan Wai-keung pointed out that even elite university graduates are not exempt from these lower salaries. This affects upward mobility and career progression as higher education levels no longer bring higher salaries. With this in mind we've prepared 6 tips to help you save and make the most out of tough financial circumstances.

1) Cut down on Spending
Spend only on the necessities such as food, transport, groceries, household goods and clothes. But that doesn't mean you have to lower the quality of your life. For instance you can purchase a lower-cost but equally good smart-phone instead of an iPhone or Samsung. After all, convenience is an integral part of everyday life.
2) Make smart use of credit cards
Try not to delay credit card repayments as annual interest rates in Hong Kong can be as high as 35% to 40%. In cases where your debt keeps rolling with various cards, you can apply for a debt consolidation plan with a lower overall interest rate. Maximise the benefits of credit cards by targeting their timely discounts, rewards and gifts.
Read More: Earn Air Miles by Paying Your Utility Bills!
3) Say no to impulse buying
Think twice before you purchase a non-necessity product when you go shopping. Compare the prices on the market and give yourself a buffering time before you make the final decision. It's also possible that you find something similar at a much cheaper price elsewhere. Also, don't blindly follow trends to buy the most fashionable items. The prices might go down soon!
4) Save as much as you can
Set aside at least 10% of your monthly income to build an emergency fund. You might find it difficult at the start but will soon get used to it. Try to divide your income into 3 equal parts: daily expenses, investments and savings. This golden rule helps you to manage your money more efficiently and is definitely a habit worth sticking to.
5) Invest with Savings
Don't borrow money to invest, especially if you're surviving on a low income. Set aside a small amount of your savings to invest and focus on low-risk investments such as bonds in the beginning. As your pool of savings grows over time, you may then consider investing a small amount in higher-risk securities such as stocks, but be aware that returns are not guaranteed and you may incur significant losses. Keep well-informed on the market and never invest based on tentative or inside information.
Read More: 7 Golden Rules of Smart Investing for Beginners
6) Invest in yourself
If you're unhappy surviving on a low-income then do something about it. Invest time and money in improving your skillset and knowledge – there are plenty of free online courses and low-cost certifications available in Hong Kong to boost your competitiveness and employability. If you're tired of depending on others to provide you with a salary why not work for yourself? There are limitless opportunities to freelance, start a company or become a self-employed consultant. But remember people pay for skills and expertise so make sure you have the credentials before applying for a better job or striking it out on your own.
——
Eager to have more financial wisdom?
Read more: "4 Tips for Women: How to Save Money for Investment"
Read more: "Road To Wealth: Manage your Finances with 3 Don'ts"
Read more: "Salary of 10 Graduate Jobs in HK(Summer, 2015)"
Facing this era of generally low salary level, are there any more saving or financing tips? Yes, of course! Visit us on MoneyHero.com.hk or follow our Blog and Facebook Page, and then you'll grasp so much more market information that guard you well enough.