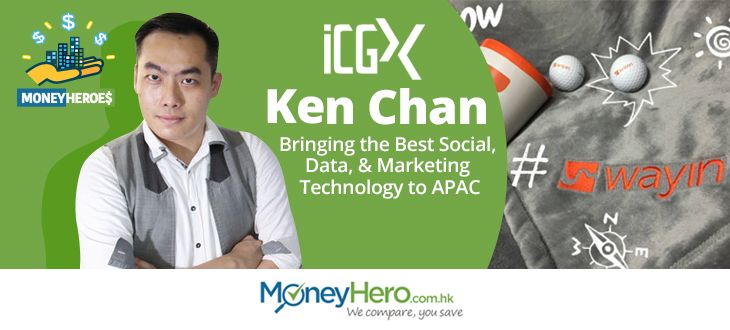 Ken Chan sure keeps it short in MoneyHero.com.hk's series of "Money Heroes" – but his knowhow in the digital world is far from short. An accomplished marketing professional bringing the combination of both digital and expertise across a multitude of industries with a focus on digital, O2O, social media and mobile marketing strategies and a keen eye on leading largely popular user-generated content and friendly user designs, Ken's passion extends to more than pleasing clients.
Before "I See Great Experience" (abbreviated and more commonly known as "ICGX" – where Ken is the Managing Director of this platform he describes as the bridge between marketing and technology that synergize to drive extraordinary marketing results) Ken fiercely purused his passion with an open mind: assuming a Teaching & Research Assistant position in City University of Hong Kong's School of Creative Media during his time there as a student of Marketing followed by his Masters in Science, Marketing at CityU.
In the pursuit to share his wealth of knowledge, new data, and inspiration with the future of tomorrow, ICGX was hence born, and since its inception in 2014, has become one of Hong Kong's forefront leaders in the real-time, present-focused social-media heavy, consumer-conversation digital marketing space, putting its money where its mouth is for clients including Joyce, K11, HKJC, DBS, SBS (Korea's prominent TV station) and GovHK.
SUCCESS OVERVIEW
Q: What is your mantra for success?
A: Keep Learning! Keep Sharing!
Q: You've gone into so many areas of interests within the industry of digital marketing: luxury; fashion; mobile solutions; and creative/digital agencies – including beginning your own integrated digital marketing solutions platform: ICGX, which is also partner of Wayin (real-time social intelligence and visualization company that makes tools to analyze and integrate social content into sales, service, and marketing efforts). How long did it take each time, or does it take, generally, for you to decide to enter and tackle a new industry, especially when starting your own?
A: I took a long time to think about the move from digital marketing to developing an area with a much more specific focus – that of real-time, consumer-engaging, user-oriented content that can help marketers bring their brands to the next level. Once I had this idea in mind, the opportunity cost of leaving an uprising digital marketing career to begin a business from nothing, nothing but an idea. That was very high risk. However, you never try, you never know. (That would probably be the second mantra of success, if you ask me).
COMPARISON & CHOICES
Q: What was your toughest personal choice to make to get to where you are? Would you have done anything differently if there was anything you could redo? Would you have made any decisions differently?
A: My toughest decision was largely considering to assume an APAC-wide focus, as at the time (2015) as the company was in the midst of handling several large projects. I thought to myself, I may lose some clients, but with success, it's give and take; and I'd much rather deliver quality than subpar quality. With this direction, I went about finding new ways of providing the best marketing solutions, one of which was fully partnering with WayIn, where I am simultaneously the current APAC partner, to meet clients' goals.
Q: You've given the top 3 ways to use hashtags – we love your expertise on that! Can you now tell us your top 3 money-saving techniques, hints, and tricks, whether in business or personally?

A: Think before spending – it is a must to keep saving every month. Evaluate how important that purchase is (I ask myself: Do I absolutely need it? Want it?)
You know, one of the recently conducted studies that ICGX had looked into showed that 92% of people seek opinions of others before their purchase decisions. This is why there is huge potential for brands to select the best real-time opinions from social media that will show what others, including their own network of friends, have to say before consumers take action. This reflects the increasingly important role of social media as an impartial opinion provider that brands can leverage for incredible marketing results. This is what ICGX is doing!
See also: Want More Saving Tips? Check here where you can learn 7 easy saving tips for lazy people
Q: What was the last item that you bought where you actively compared prices? When making more significant purchases and financial decisions, do you compare products and how do you do your research?
A: The latest decision I made was purchasing a huge LED display for business purposes. Comparison – whether personal or business – is a must. What's more is that it's important to reach out to contacts to see who can provide both an acceptable price while not sacrificing quality. I sure do my research via searching on the Internet and within my social network to see if anyone's had experience doing the same thing. For this big LED display, not only was the cost a factor, but also the transportation of it from one location to another, as that itself involves minimizing risks. If the logistics are not smooth, that would affect the decision of whether I can purchase an LED display, which can have great impact to the project on hand.
Q: What's your view on borrowing vs. saving when it comes to first starting a business?
A: In my case, I used my savings to start my business. You will find that using your own money will make you more considerate with every dollar spent and every financial action, big or small, that is taken. A way of borrowing is raising funds from investments – you need to answer to those that support your business by generating surplus revenue to return to investors.
Q: Which of the following savings objectives is most important to you?- Providing money for family (to older generation)
– Buying property
– Retirement
– Further study
– Children's education and savings
– Travel / luxury items
– Emergency funds
– Car

A: This one is an easy one – definitely emergency funds. Why? It's critical to the survival of any business. Of course, on a personal note, you must "save for rainy days."
Q: Renting an apartment and office space in Hong Kong can be very expensive, how did you manage to survive, especially in the early stages of starting a business?
A: At the beginning of ICGX, I shared the office with my partner in order to save costs. Share resources and be frugal on expenses that you don't need to take on all by yourself.
Q: IF you had ONE SUPER POWER…
A: This one is also easy. I'd have the power of speed – so I can blast through my all my projects. In the words of a comic book fan, I'd enjoy being superluminal – that means being faster than the speed of light, which was Superman's specialty when he was flying. And what would I do if this were true? I'd work my team to explore more ideas on how we can make a difference in the O2O realm in helping consumers – make decisions based on impartial information within and beyond their social media networks, real-time. In this sense, I do believe MoneyHero.com.hk, ICGX, and WayIn, are very similar – helping people like you and I, come to the best decision for them, when making purchases.
Read More: "Hire And Set Up The Best People. A Strong Team Spells Success." Mike Rosol, Vice President of Sales of Wayin
Visit MoneyHero.com.hk's Blog for more money saving tips and financial advice. Don't forget to follow our Facebook Page for more useful news and deals!