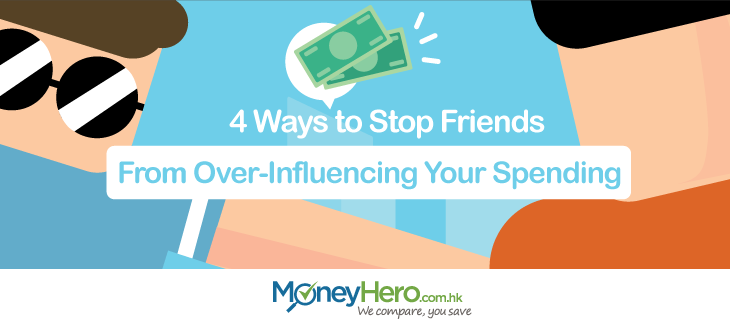 Friends can both positively and negatively impact your personal spending – have you ever thought about that? Your spending habits are, in fact, largely associated with your social activities and the people you spend the most time with. Here are 4 ways that friends influence your spending and tips on how to deal with them.
1. They tempt you to "Spend More! "
Spending a vast amount of time united by common interests would translate into spending, well, a lot of money. Take music, for example, as enthusiastic music lovers who always shop at CD and record stores, collecting CDs and vinyls, might not be able to resist the temptation to buy another item for their collection. Tempters may nudge you into doing the same so they feel less guilty about their impulse purchase.
Instead of spending too much money on your hobbies, set a monthly budget that you can stick to together. If both of you happen to hit this early then find other ways to indulge in your hobby for free, such as listening to music at home on YouTube or Spotify.
2. They Pressure You – "You Need to Get This!"
If you are the average of the five people you spend the most time with, then it's probable that you have some friends who are more affluent than others. Hence, the pressure to play catch up might include dressing to impress and rocking the latest gadgets, which eats into your income.
So let your friends know what amount you're comfortable spending on a dinner, a night out, gift or outfit. Real friends should understand and appreciate your honesty. If they don't – ditch them.
Here are some tips and useful resources to help guys in Hong Kong manage their spending.
3. They Change Your Spending Habits – "It's out this week – have you got it yet?!"
As the Chinese saying goes, "he who stays near vermilion gets stained red, and he who stays near ink gets stained black." So if your friend loves to clip coupons and go bargain hunting just to save a few dollars, you might naturally get into his habit. On the other hand, you might start to think that credit card debts are not a big deal when people around you are not as concerned about overspending.
Choose your friends carefully. Not every gathering requires your presence; however, don't be so frugal that your social life suffers.
4. They Affect Your Investment Choices– "I bought a bunch of that stock already – I heard it has good returns"
Many people listen to investment advice from friends, especially when it comes to stocks, bonds and mutual funds. This explains why multi-level marketing pyramid schemes still exist today.
If some of your friends are familiar with investing, you might simply take every piece of advice they give you. But you should not rely on such casual advice. Do some research before you make any investment decisions and consult with an experienced and certified financial advisor for additional recommendations.
Want to invest but have no idea where to start? Read more about the 7 Golden Rules of Smart Investing for Beginners.
Struggling with your personal finances? Then hang out less with spendthrifts. Most importantly, don't obsess about what others have and stick to your own budget. Make use of MoneyHero.com.hk's impartial comparison tool and save more by finding out the best deals in Hong Kong!
Visit MoneyHero.com.hk Blog for more money saving tips and financial advices. Don't forget to follow our facebook page!