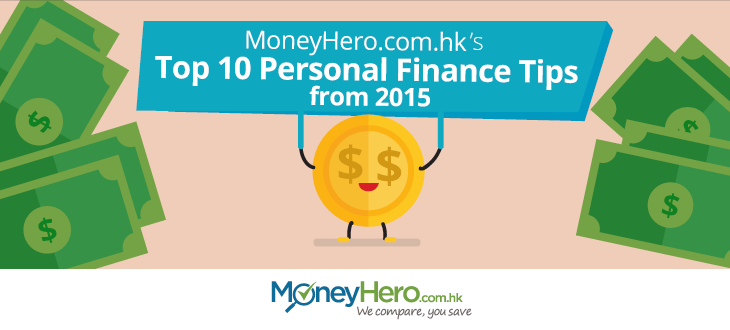 With 2016 soon upon us, we've rounded up our top 10 personal finance tips from 2015 to help you keep your spending, savings and investments on track in the coming year.
1. Set a Personal Financial Goal
Establish a financial goal for yourself in 2016. You might want to make long-term goals such as saving for your first home or immediate goals such as buying a new smartphone. Make 2016 the year that you start working towards them.
See also: Your First Paycheck Defines Your Life
2. Diversify Your Investment Portfolio
Spread out your investments. Don't just rely on one source of passive income, instead allocate your money to different types of investments such as stocks, bonds, property and time deposits.
See also: 7 Golden Rules of Smart Investing for Beginners
3. Plan Your Budget
Set a monthly budget that best reflects your spending on dining out, credit card bills and daily expenses. Allocate your salary to these expenses and put aside some money for investing, savings and emergency funds. When you want to buy something, ask yourself if you really need it. You can save a lot by refraining from impulse buying.
4. Use Personal Finance Apps
Use personal finance apps to keep track of your spending. You can keep a detailed record of where your money goes and even check your bank balance online.
See also: 6 Smartphone Budgeting Apps You Should Try Now
5. Protect Yourself With Insurance
Apart from yourself and your family, your home, car and other assets also need protection, as it might cost you a fortune when accidents happen. That's why you should purchase insurance for your properties. Since insurance coverage varies greatly by companies and plans, remember to compare different insurance plans to find the best deal before making a decision.
6. Increase Your Source of Income
It is always easier to spend money than to earn it. You might find it hard to live on your current salary, let alone building up some savings. Finding a second source of income is a good way to boost your finances.
Make sure you have a stable full-time job or it would be difficult for you to make extra money. The ways you can earn a secondary source of income depends on your interests and strengths. For example, if you are good at making crafts, you can sell them through online platforms such as Facebook and Instagram.
7. Improve Your Credit Score
When you need cash urgently, you might have to take out a loan. Pay your credit card bills on time to show the banks that you're a highly reliable borrower. This helps you get their approval more easily when you apply for a personal loan or increase your credit limit. Make sure that you pay off your debt and avoid making the minimum payment only.
See also: Road To Wealth: Manage your Finances with 3 Don'ts
8. Get Ready for Retirement
It's important to seize the day, but you should also look forward to the future. Start planning for your life after retirement as early as you can. Opening a time deposit account or investing in mutual funds can help you ensure financial security and build wealth for retirement.
9. Invest in Yourself
Lifelong learning is the key to success. Keep learning and equip yourself with new knowledge and skills for career success. Similarly, learn more about investing and saving so that you can manage your finances more effectively.
See also: 5 Money Myths that you Should Totally Ignore!
10. Reward Yourself
Although it is important to pursue your financial goals, sometimes you also need some rewards to keep yourself motivated. There's no need for you to give up your social life and what you love. You can always achieve financial success while enjoying your life at the same time.
See also: 4 Simple Tips to Spend Less on Your Credit Cards
——
Visit MoneyHero.com.hk's Blog for more money saving tips and financial advice. Don't forget to follow our Facebook Page for more useful news and deals!