If you live and work in Hong Kong, it's your own responsibility to file your tax returns and settle your tax bills on time. Some people count on their annual bonus to pay for their taxes. But if you have financial difficulties in paying your tax on time, you might want to take out a tax loan from local banks or lenders. (Updated Nov 2015)
What is a tax loan?
Tax loans are offered by banks and lending companies in Hong Kong during the tax season (typically from October onwards) to help taxpayers cover their tax bills. The usual repayment period of a tax loan is 12-24 months, which is much shorter than other types of loans.
Interest rates charged on a tax loans are generally lower than for personal loans. In most cases, the more you borrow, the lower your interest rate. For example, a lender may offer you an Annualised Percentage Rate (APR) of 1.86% for a tax loan of HK$1 million, whereas the APR would be a higher 3.99% for a tax loan of HK$100,000. The APR for a personal loan of HK$ 100,000 may even be as high as 4.78%.(See the chart below.) Therefore, getting a tax loan will definitely help you save more on interest rate charges than a personal loan.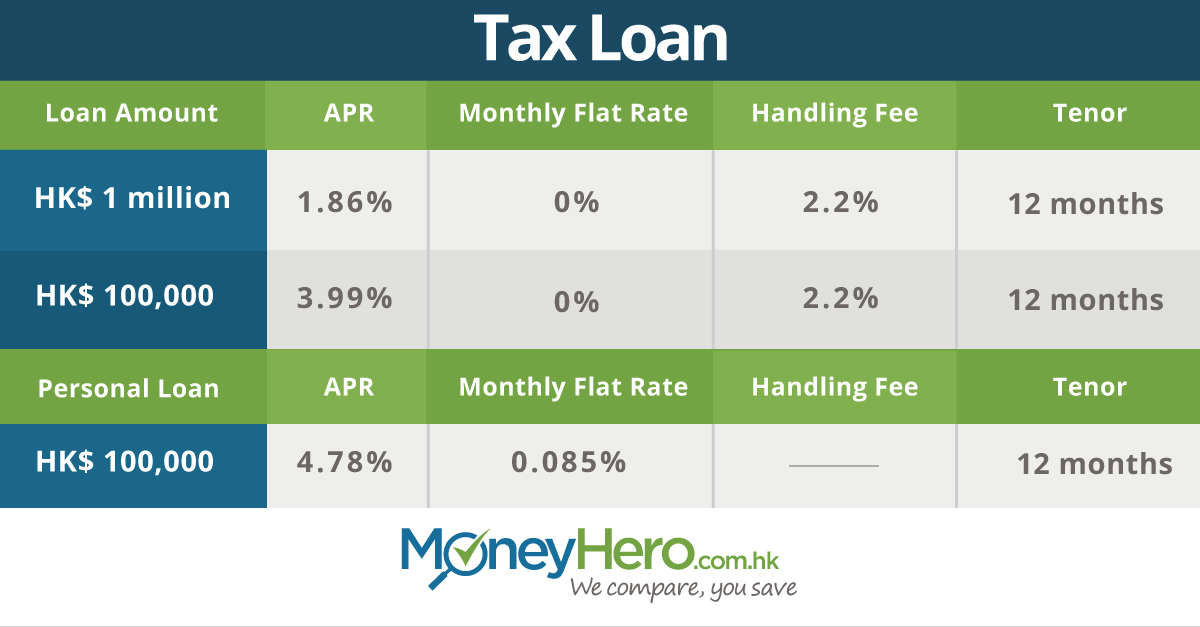 Eligibility for a Tax Loan
In general, an eligible borrower should be a Hong Kong resident of 18 years-old or above with a monthly income of at least HK$5,000 – 8,000. These requirements vary from bank to bank, so you should read the terms and conditions thoroughly before you make an application.
Documents Required For Application
Applying for a tax loan is quick and simple. Borrowers will be asked to provide a list of documents such as proof of identity (your Hong Kong identity card or passport), proof of residential address as well as your latest notice of assessment and demand for tax. Profit tax loan borrowers might need to submit documents such as their present business registration certificate and proof of business address. Keep these documents at the ready in case you are asked to submit copies with your application.
Most banks and lending companies offer a one-day processing for tax loans. The more complete your application is, the faster it will be processed. Once approved, you can settle your tax bills, and work on achieving your medium term financials goals with a peace of mind.
Compare all the loan products available in the market before you take out a tax loan. 

Check out our Tax Loan Comparison Platform to find the best Tax Loan for you.
Read more about filing tax returns and tax rates in Hong Kong
here
.
Visit MoneyHero.com.hk Blog for more money-saving tips and financial advice. Don't forget to follow our Facebook Page!