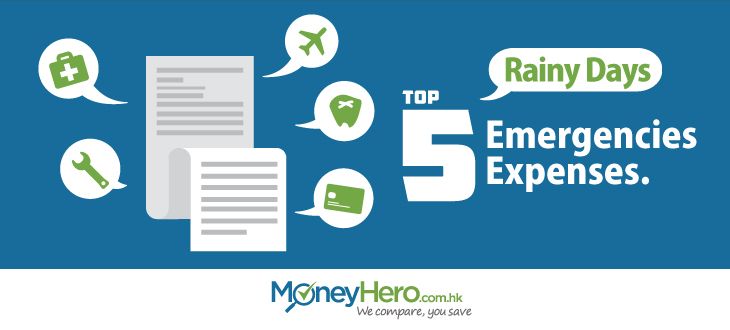 MoneyHero.com.hk identified the 5 most common reasons for accessing emergency savings funds as:
Urgent medical expenses

Losing a job

Credit card fraud

Unexpected home repairs

Dental surgery expenses
Saving a little each month for one of these rainy days will help overcome the unexpected speed bumps in life.
1. Medical Attention – In Hong Kong & When Travelling
Getting injured in an accident abroad can be very costly should you require hospitalization. For example, a single day's stay at a private hospital in the United States can cost between HK$13,500 – HK$17,000, excluding the costs of medication, surgery and consultation. Do make sure your travel insurance plans have a high coverage limit for medical expenses and able to sufficiently cover you for an emergency evacuation.
2. Losing Your Job
Nobody thinks they will be laid off, but it can happen to anyone. Multinational companies frequently fire thousands of workers at the same time, and for many SMEs letting people go is the easiest way of cutting costs. Amazon and Netflix routinely fire smart and talented individuals, so even highly paid knowledge workers are also at risk. Preparing 3 to 6 months of your income in savings can provide a temporary safety net as it may take time to find a new job. In the event that you lose a job because your employer has become insolvent, seek assistance from the Labour Relations Division as soon as possible.
3. Credit Card Fraud
More than a third of Hong Kong consumers have experienced unauthorized access to their personal finances, most commonly as a result of credit card theft (Source: Zogby Analytics, commissioned by TransUnion; survey of five hundred adults). Bearing this in mind, stay alert, call your card issuer immediately if you suspect fraud. Find out more about how to use credit cards safely overseas.
4. Urgent Home Maintenance and Repairs
A leaky ceiling, damp floorboards, a broken window from a typhoon, all are in need of prompt repairs which could cost a few thousand dollars. Home insurance might provide you with a certain degree of protection against unwanted property damage, but you should make sure that you have enough cash to fix these while waiting for your claim to be approved.
5. Dental Problems
Toothaches are hard to ignore but the cost of dental services in private clinics for specialized treatments could rise to more than HK$10,000 per visit. Compare the prices at different clinics, with those operated by charitable organizations such as Yan Chai Hospital Dental Clinics and Project Concern Hong Kong Estate, which provide low-cost dental care and may be a more economical option.
Find the best medical insurance plans for you and your family by using our comparison portal.
Remember to always save for rainy days! Build an emergency fund and expect the unexpected. In the meantime don't hesitate to compare insurance providers and find the best coverage deal for you at MoneyHero.com.hk!
——
Want to know more saving tips?
Find more ways to save money on financial products like by navigating Moneyhero.com.hk. Visit MoneyHero Blog for more money saving tips and financial advices. Don't forget to follow our facebook page!