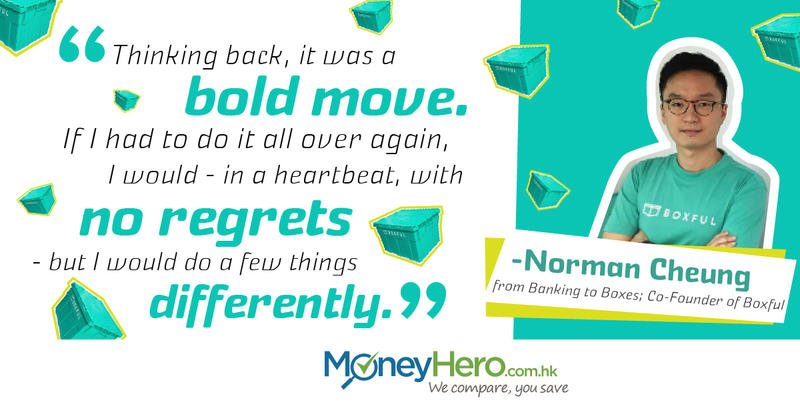 "Thinking back, it was a bold move. If I had to do it all over again, I would – in a heartbeat, with no regrets – but I would do a few things differently." – Norman Cheung, Co-Founder of Boxful.
Norman Cheung is the Co-Founder and CEO of Boxful, an on-demand storage service for households and businesses in Hong Kong. Recently named by SCMP as one of the 5 most promising start-ups in the city, Boxful was launched 2015 as a lifestyle service to change the way people use their living and work space. The company has since disrupted the storage industry with its flexibility, convenience, and technology integration. Boxful raised a total of US$8.1m in its Seed and Series A funding rounds.
Prior to Boxful, Norman co-founded Zooq in 2012, an online fashion retailer based in Shanghai that carries over 100 international high street and designer brands, as well as several in-house private label brands. He began his career as a finance professional for 8 years at UBS and PWC. Norman graduated from The London School of Economics with a degree in Management in 2004.
SUCCESS OVERVIEW
Q: What is your mantra for success?
A: I don't live by a single mantra, but I do try to adopt a to certain attitude. Be positive, be curious, and be nice. These may sound a bit cliché, but to attract and surround yourself with people who share this mentality, goes a long way in work and life.
VISION
Q: You've gone into a somewhat saturated industry as there is some competition for storage in Hong Kong, so how long did it take for you to decide to tackle a competitive industry as a new player?
A: The trigger was when I tried using traditional storage myself, after moving back and forth in the past couple of years. It was obvious to me that improvements needed to be made because it was inconvenient and expensive.
The industry is only saturated in terms of the solution it presented. We went in with a wholly new solution that's simple: by-the-box (including document holders and wardrobe boxes), affordable monthly payments, and easy management of your belongings from your mobile.
Boxful is essentially a new-age platform that's grounded in tech for convenience, and flexible with its storage options. Plus, we do all the moving for you. The entire process just takes a few clicks.
Q: What are the differences and similarities you see between Boxful & MoneyHero.com.hk, in terms of CS? What is your vision for Boxful in the next 2, 5, 10 years?
A: We are also very customer-centred – as www.moneyhero.com.hk is. Aside from the logistics and tech side of the company, we also consider ourselves as part of the service industry. Referrals from satisfied customers is an integral part of our marketing strategy. Similarly, customer acquisition is the basis of long-term growth.
Of course, this is easier said than done, but our team goes out of our way to provide exceptional service. In the next 2, 5, 10 years, we would like people to view storage as a natural element of urban living. We hope that customers will see that this lifestyle does make sense, in terms of improving your home and cost. Certainly, we aim to be the market leader.
COMPARISON & CHOICES
Q: When you began your business in Hong Kong/Asia, what were the options in business strategies below and their level of importance in comparison to one another (1 being the most important) to help you arrive at the best decisions for your business? (Please rate)
A: I think when it comes to building a business, every facet is important, so it's difficult to measure its importance. But when putting together a timeline for execution for Boxful, this is the order that we tackled the issues in the beginning, and we continue to refine them as well.
Product Differentiation – 1
Pricing Strategy – 2
Technological Advantage – 3
Market Entry – 4
Q: When faced with a tough business challenge that requires a quick decision that may not result in a win-win-win for all parties, which group would you prioritize first and why?
A: In any business scenario, the interests and gains of each parties – whether it's Customers, Investors or Employees – are closely tied. It's not a zero sum game, and it's difficult to find a realistic example of your investors not benefiting when your employees are happy and your customers, satisfied. I wouldn't put an order of importance to any of these groups.
Q: What was your toughest personal choice to make to get to where you are? Would you have done anything differently if you could redo? Make any decisions differently?
A: Giving up full-time employment, and the security that comes with it, is the most difficult thing to walk away from by far. The transition – moving to Shanghai and, learning how to speak Mandarin in a business setting, weren't easy either, but very rewarding.
Thinking back, it was a bold move. If I had to do it all over again, I would – in a heartbeat, with no regrets – but I would do a few things differently. I would have spoken to more people, getting insights from fellow entrepreneurs who have been there, learning about their pitfalls; , when to raise money, speak to people on the investor side, and just sharing ideas in general.
Having family and friends to share your venture with and a Co-founder to bounce ideas off of, also alleviates a lot of stress. When I left UBS to start Zooq – in retrospect – I didn't know what I was getting into, and it took a few years to really know.
Many aspiring entrepreneurs are afraid to share their ideas and concerns, and that's just start-up culture. But the chance for others to replicate ideas is far fetched because it's a combination of resources, dedication, and the experience, which is hard to find, let alone replicate. I think, The world has lots of good ideas; what the world is missing is good people with right set of resources, skill set and dedication to execute them and scale up the business.
So if I were to redo my journey up to now, all over again, I would, and I would go through it with speaking to more people, and I would strongly encourage anyone in the same situations, to do so.
Q: What are your top money-saving techniques, any hints or tricks you can share?
A: ROI is key – anything we do: employing a new person, hiring a new van, running a new campaign, we always run the same math, and it's a tool to use across the board to make decisions. Obviously, it's not realistic to apply this to every decision, but it's the principle of measuring what is and what isn't a good investment.
Personally, I try to keep my life minimal and not buy unnecessary things. Entrepreneurs, especially early on, have to save. Be generous to others, but be frugal to yourself.
Want more saving tips? Check out our easy tips that even the laziest person can follow to save more.
Q: IF you had ONE SUPER POWER…
A: I think I'd want the power to fly or teleport :), just go straight to a beach! That would be an awesome super power!
——
Inspired? Or want to be?
Read More: OpenRice Founder : Ray Chung's 5 Ingredients of Success
For more wealth tips, check out MoneyHero Blog for more money saving tips and financial advices. Don't forget to follow our facebook page!