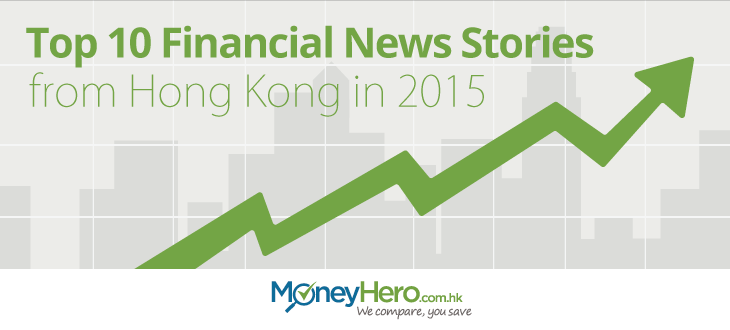 Financial markets in Hong Kong experienced a significant shift in 2015. In the first half of the year local property prices surged and the city's investors keenly rode on the back of a bull market, enabling Hong Kong's financial health to keep it strength. However following restrictions on the number of mainland Chinese tourists permitted to visit Hong Kong, both tourism and retail industries suffered in the second half of the year. With the recent rise in US interest rates and China's slowing rate of GDP growth, global economic prospects are likely to change dramatically in 2016. With this in mind, let's recap the top 10 financial news stories from Hong Kong in 2015.
1) HKMA tightens mortgage rules
The Hong Kong Monetary Authority (HKMA) imposed a series of measures on mortgages amid the heating property markets in February. The maximum loan-to-value(LTV) ratio for self-use residential properties with a value below HK$7 million was lowered to 60% while the maximum debt-servicing ratio (DSR) was lowered to 40%, and the stressed-DSR cap was lowered to 50%. The measures were considered to be ineffective at first as the market remained unresponsive and property prices continued to rise until recently where they have gradually started to slump.
2) 2015-2016 Hong Kong Budget
Hong Kong's financial secretary John Tsang announced the 2015-16 Budget on 25th February this year, with the following measures as the main focus:
a. Reduce 2014-2015 salaries tax and tax under personal assessment by 75%, subject to a ceiling of HK$20,000.
b. Reduce 2014-2015 profit tax by 75%, subject to a ceiling of HK$20,000.
c. Waive rates for the first two quarters of 2015-16, capped at HK$2,500 per quarter for each rateable property.
d. Provide an extra allowance to recipients of Comprehensive Social Security Assistance (CSSA), Old Age Allowance, Old Age Living Allowance and Disability Allowance, equal to two months of the respective allowances.
e. Pay one month's rent for lower income tenants living in the rental units of the Hong Kong Housing Authority (HKHA) and the Hong Kong Housing Society (HKHS).
f. Increase the basic and additional child allowance from HK$70,000 to HK$100,000 from 2015-2016 onwards.

g. Issue up to HK$10 billion of inflation-linked retail bonds (iBond), with a tenor of three years and investments paid every six months.
(Check out our Tax Loan Comparison Platform to find the best Tax Loan for you.)
Read More: How to Pay Taxes in Hong Kong – A Quick Guide for Expats
3) Release of HSBC 150th Anniversary Banknote
HSBC released two million HK$150 banknotes to mark the bank's 150th anniversary in early March. The banknote was available in three different packages – a single banknote (HK$380), 3-in-1 uncut sets (HK$1,380) and 35-in-1 uncut sets (HK$23,880). Both local residents and non-residents could apply for the banknotes as long as they are aged 18 or above with a valid Hong Kong correspondence address and phone number.
In early April, HSBC announced that the single notes were oversubscribed 4.4 times while the 3-in-1 banknote set and 35-in-1 banknote recorded over-subscription of 21.6 times and 64.8 times respectively.
4) Hang Seng Index broke above 28,000, hitting a seven-year high
Due to the government's market cooling measures and the Securities and Futures Commission(SFC)'s relaxation of investment rules, many people entered the stock market and more capital from the mainland flew into Hong Kong. As a result, Hong Kong stocks surged in April this year. The daily market turnover reached over HK$200 billion everyday in the beginning of the month while the Hang Seng Index rose above 28,000-mark. The share price of the Hong Kong Stock Exchange also rose over HK$200, surpassing HK$300 per share mark.
5) "Multiple-Entry" Individual Visit Endorsements replaced by "One Trip Per Week"
The Chinese Central government had been issuing "multiple-entry" Individual Visit Endorsements to eligible permanent residents of Shenzhen since 2009, which allowed them to make unlimited trips across the border with Hong Kong every day. The measure, however, was replaced by a "one trip per week" scheme in April 2015, under which endorsement holders can only visit Hong Kong once a week rather than without limits. The "one trip per week" quota will become invalid if not used in one week, and cannot be accumulated. Endorsement holders also cannot use it earlier nor can they use all of the endorsements in one time. The "multiple-entry" Individual Visit Endorsements which have been issued will remain effective until the original scheme expires.
6) Security Loopholes found in Contac

tles

s Credit Cards
While it is common and convenient to use contactless credit cards (such as PayWave, PayPass, etc) for in-store payments now, a number of security risks are involved. In October, the HKMA ordered seven banks to recall their contactless credit cards as the cards did not fulfill security requirements as these cards could easily leak cardholders' data to unauthorized parties through a mobile phone app. The authority pointed out that 1.25 million cards failed to comply with the proper security measures and estimate that it will take several months to replace all of the flawed cards.
7) URA's De Novo Project in Kai Tak For Direct Sale
The De Novo Project by the Urban Renewal Authority's (URA) is the first ever self-developed housing estate for provision of "Flat-for-Flat" units at Kai Tak in Kowloon City. The construction project cost HK$1 billion with 484 residential flats, 85 of which were 600 square feet flats with 3 bedrooms.
In late July, the URA announced that it would allot 338 units at the Kai Tak project for direct sale to families of two or more at 80% of the market price. To qualify to buy the flats, applicants must be aged 18 or above who have lived in Hong Kong continuously for 7 years or more. The maximum monthly household earnings and assets of the applicants are HK$60,000 and HK$3 million respectively.
In late November, the URA announced that single people are allowed to buy the flats in the De Novo project estate. In early December, the Authority held a special meeting to revisit the eligibility criteria for single applicants. The maximum monthly income of an eligible applicant was reduced from HK$60,000 to HK$33,500 while the maximum asset limit was reduced from HK$300 million to HK$1.5 million. Married couples could not apply as separate individuals.
8) Competition Law Started in Hong Kong
The Hong Kong Competition Ordinance took full effect on 14 December 2015. According to the ordinance, any business entity should not conclude an agreement that prevents, restricts or distorts competition in Hong Kong or abuse its market power. The ordinance is divided into the First Conduct Rule and the Second Conduct Rule. The First Conduct Rule prohibits price fixing, market sharing, bid rigging and output restrictions between businesses while the Second Conduct Rule forbids businesses with an annual turnover of more than HK$40 million to abuse its market power to harm competition in Hong Kong. The rule also bans malicious business conduct such as below-cost pricing, tying and bundling. As the law came into effect, many small retailers in Hong Kong cut prices of their products (for example, sports shoes and mobile phones) to boost sales while the Competition Commission received 500 inquiries and complaints.
9) US Fed Ends Seven-year Era of Zero Interest Rates
After seven years of zero interest rates since the economic recession in 2008, the US Federal Reserve has raised interest rates by 0.25% in December for the first time since 2006. Since the Hong Kong dollar is pegged to the US dollar, the rise in US interest rates will exert a negative impact on Hong Kong's property market, stock market and exports. Whether local banks will raise interest rates or not depends on the economic prospect of Hong Kong in the coming year.
(Mortgage Tips: Citibank HIBOR Mortgage can offer mortgage rate of P-3.1% as a cap. Even though US has already increased its Fed rate, it is estimated that the Hong Kong Dollar Prime Rate will stay the same for a while. To learn more, please click here.)
10) Housing Market Faces a Slump
In May, Jacinto Tong Men-leung, chief executive of Gale Well Group, warmed homebuyers that the small flats market in Hong Kong would go bust within three months. His prediction came true eventually by the end of the year as local property prices began to fall in November. Sellers started to lower the property prices in order to attract buyers. Those who plan to buy their dream homes should keep their eyes on the local property market.
Read More: Are Hong Kong Property Prices Dropping 20% Next Year?
——
Visit MoneyHero.com.hk's Blog for more money saving tips and financial advice. Don't forget to follow our Facebook Page for more useful news and deals!