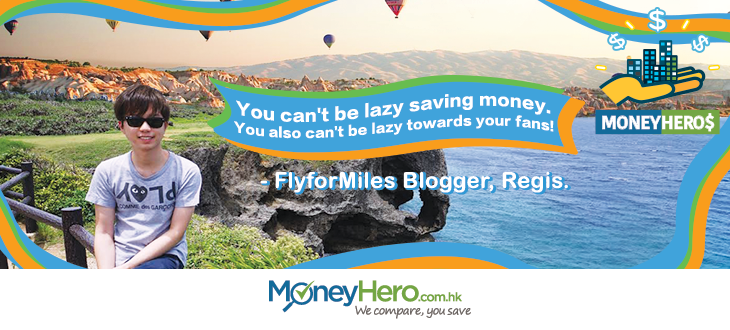 By accident or design, Fly For Miles is an absolute stroke of brilliance. Considered by followers and Facebook fans as the bible of travelling smart,
Fly For Miles
, is
the
go-to blog on how to optimize your current credit cards to get the most out of miles – miles to redeem for flights. Who doesn't love travelling? Well, that's where it all started. Regis, or 小斯 (Xiao Si), as he is known to fans, is the mastermind who decided that because he wanted to travel cost-efficiently, but to do it free of constraints of limited time, high prices, and unavailability of tickets due to seasonality among other factors, he had to find a solution to best use the resources he already had – his credit cards, which was also something that he loved to collect (yes you heard right, he loves collecting credit cards!). Most credit cards nowadays allow customers to collect reward miles from different providers for every dollar (or a few) spent, and with this in mind, it became second nature for Regis to compare and find the best options to travel the world!
Holding more than thirty credit cards, Regis points us in the right direction. "I use the right card in different situations to get most rewards," he remarks. Hence, out of a love to travel, Fly For Miles was born, and everyday, according to individual needs such as one's spending habits, travel preferences, and minimum credit card application requirements, fans can get insights on which credit cards best to apply for and use, to fit their individual needs. So whether you're into short haul, or enjoy travelling fifteen hours or prefer beautiful Europe or are an avid fan of Asia wonders, you can find the travel options that best suit you!
Q:

What is your mantra for success?
A:

"You cannot be lazy saving money." My mantra – if you call it that – is not typical. My advice would really to advise anyone: young or old – don't be hasty when saving, as you would have for any goal, but especially with saving. Fly For Miles is a good guide because it teaches not only how to save, but how to maximize what you already have, but in ways that you might not have known about before.
Q:

You've gone into somewhat of a new industry, Blogging about Maximizing Credit Cards on Travel ( or least when you started, there weren't many major players around) – how long does it take for you to decide to tackle a new industry?
A:

Two days. No joke! It took me only two days to decide to start the blog, because I already had the caught the travel bug ages ago, and the next natural step was to best optimize my many credit cards to get the most out of travelling, and the following step, was to share.
The founder of
Flyday.hk
, who was also my senior in university, encouraged me to start the blog knowing I was very familiar with different air miles programmes. He provides Fly For Miles the IT support I need to operate the blog. I usually spend about 3-4 hours a day on it, updating useful travel info. to the latest destinations, as well as answering questions. I remember like it was yesterday that I had started the blog May 5, 2013, and began the Facebook at the beginning of 2014 due to overwhelming response in my sharing.
Q:

What are the synergies or similarities you see between Fly For Miles & MoneyHero.com.hk? What is your vision for (your company) in the next 2, 5, 10 years?
A:

I believe we are quite similar but not competitors – similar as we are both offering travel lovers and users alike the best credit cards to suit their needs, while I am diving into a more personalized conversation with fans and breaking down travel scenarios (long haul, short haul, Europe, Asia, Middle East) that they pick the best credit card to use to redeem or buy plane tickets. Moneyhero.com.hk has provided me with a lot of useful information, which helped me to compare and find the best credit cards in Hong Kong. For instance, I used the information provided by Moneyhero.com.hk to compile a table of the best credit cards that offer airport lounge access. Every frequent flyer who has access to the lounges probably want to enter it!
Q:

When you began your business in Hong Kong/Asia, what were the options in business strategies below and their level of importance in comparison to one another (1 being the most important) to help you arrive at the best decisions for your business?
A:

Product Differentiation – 1
Market Entry – 2
Technological Advantage – 3
Pricing Strategy – 4
Just a note that product differentiation & market entry go hand in hand. Even though Fly For Miles is more of a hobby than a business, I'd say that to start anything, if there is no differentiation about it, then there is no market entry. Like I mentioned earlier, it didn't seem like anyone was sharing how to travel smart, so I thought, why not!
Q:

When faced with a tough business challenge that requires a quick decision that may not result in a win-win-win for all parties, which group would you prioritize first and why?
A:

Clients/Consumers/End Users – 1
Employees – 2
Investors – 3
At the end of the day, I had begun the blog in hopes that it would help others, and that's why I always say my users are first. There was once where I needed to make a choice between receiving a better reward from financial services provider to promote a credit card's welcome offer that would bring my fans less benefits vs. getting a lesser reward from another provider to promote a welcome offer that was way better for my fans. Undoubtedly, I chose the latter because my fans is always my top priority!
Another challenge that I do recall very well was that a fan asked me specifically on his/her routing in relation to how to best use his/her Asia Miles. That one was tough, because I have given suggestions on routing as you can see on Fly For Miles; but each individual also needs to treat himself/herself case by case and check with the miles provider one he/she has decided on the routing as there may be certain unforeseeable changes such as systematic updates, transit options, as well as the availability of flights. It's never a one size fits all answer that I can provide, but some general guidelines I would suggest for travel lovers, when it comes to routing.
Q:

What was your toughest personal & business choice to make to get to where you are? Would you have done anything differently if you could redo? Make any decisions differently?
A:

The toughest business choice, is I would say, as mentioned before, putting my fans first.
By reiterating credit card general and travel benefits that were already there to be enjoyed but not that well known to the average due to the lack of communication from banks or financial service providers about some very attractive credit card benefits, on one of my blog posts, was an instance that stood out to me, as I had received some negative comments from advanced credit card users. These hidden gems (very attractive credit card benefits) were: firstly, the option to collect points/miles from paying installments from a single purchase of insurance as well as secondly, the option of lounge entry for your accompanying plus one or twos or threes that were not holders of credit cards with airport lounge privileges. When I think about it now, I still think I had made the right decision, because letting my fans know what's the most beneficial, always comes first!
Apart from that, I have underestimated the influence of my blog. I started the blog for non-commercial purposes. Fly For Miles is intended to be a free blog providing readers with credit card information and fly miles programmes. However, there was one website which made unjust accusation and complaint against me, trying to deter me from working with other organizations to provide more rewards to my fans. I felt impotent at that time as I never expected to get involved in commercial rivalry. But I believe that I have nothing to fear as long as I have done my duty and given my best.
If I had to do this all over again, starting Fly For Miles, I would do it again in a heartbeat, because helping others achieve their travel goals, which is one of Hong Kongers' top three goals, by controlling and maximizing their current resources better, is what truly makes me happy.What keeps me motivated is seeing fans appreciate the information and put it to good use to benefit themselves. It makes me feel like my virtual followers are sharing a reality with me – and that is realizing their own travel dreams!
Q:

What are your top money-saving techniques, any hints or tricks you can share?
A:

Firstly, it's about planning – I allocate how much I need to spend on each category – whether it's work or personal – but I don't cut. I try to effectively gain returns from what I spend and have tried to gain a return value from it.
Q:

Which of the following savings objectives is most important to you?
A:

Buying property, retirement, further study, children's education and savings, travel / luxury items, emergency funds car, giving money to family
As a Hong Konger, certainly, giving money to my family is one of my top priorities. Also, another Hong Kong dream is obviously being able to afford my own flat. Other than that, well you can already guess that yes – I love to travel. I don't allocate a certain portion of spending to go on vacation at certain times of the years or not – I simply go when there are either good deals and offers I can take advantage of or, a lot of the times for me, when I can redeem my travel miles that I have racked up from my credit cards! To name a few, I am going to Japan at least twice for the rest of this year, and at least twice next year. I am heading to Phuket, which was more for value to purchase, than to redeem using miles. I am also heading to Yangon and Canada. That's about six trips right there, and that took a total of about 200,000 miles.
A secret I can share is that in ONE year and one year alone, I have been able to save up 300,000 miles from my credit card spending.
Q:

IF you had ONE SUPER POWER…
A:

I'd love the power to teleport. Just like the classic Doraemon show, where he would always pull out his 'magic door' and go…pretty much anywhere, physically. I love travelling…imagine if I can just travel…to anywhere, simply in a mere thought. I can simply "open the door" in mid-air Hong Kong, and in Bali. How cool is that?!
Q:

Anything else you'd like to add?
A:

As a blogger, I also got my inspiration from someone else, other than the love for travelling. I'd really like to thank

Lovelovelings

, (粒粒玲子, as she known in Cantonese) the blog that gave me

the courage to start sharing what was already my passion. I also learnt a lot of how to effectively use my existing credit cards to travel smart!
——
Interested to know more about air miles credit cards? Use our powerful comparison tool to find the credit card that best suits your need!
Inspired? Or want to be?
Find more ways to save money on financial products like by navigating Moneyhero.com.hk. Visit MoneyHero.com.hk Blog for more money saving tips and financial advice. Don't forget to follow our Facebook Page!