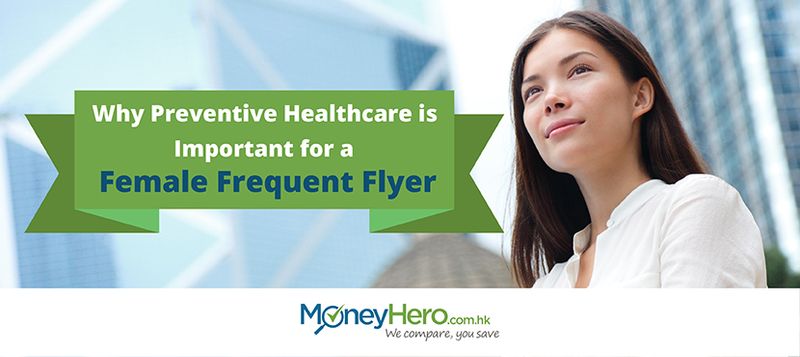 While women generally live longer than men, they are also more likely to develop chronic health diseases than men and are at high risk at particular diseases such as breast and cervical cancer. In order to stay healthy, it is crucial that women have regular health exams and tests such as pap smear and mammogram to manage their health proactively. If you frequently fly around the world, you are more susceptible to a host of health problems, from cancer and cardiovascular disease, to vision and hearing loss, to mental disorders and cognitive decline, so having a comprehensive global health insurance plan to protect you physically and financially even before any problems arise is important.
Key Facts About Women's Health Risks
To take charge of your health, the first step is to find out what you are up against:
Women live an average of four years longer than men and have a life expectancy of 73.6 years on average, according to the figures from WHO and the World Bank in 2014.

Stroke, ischemic heart disease, lower respiratory infections, COPD and breast cancer were some of the ten leading causes of death for women around the world in 2012.

Breast cancer is the top cancer killer among women aged 20-59 years in the world and cervical cancer is the second most common type of cancer in women worldwide. Other most common types of cancer that kill women worldwide include lung, stomach and colorectal cancer.

Women are much more likely to develop gallstones, osteoporosis, urinary tract infection and hypertension than men.

Reproductive health, maternal health and HIV are some other main issues regarding women's health.
Prevention and the costs
Prevention is always better than cure. The WHO points out that cancers of major public health relevance such as breast, cervical and colorectal cancer can be cured if detected early and treated adequately. That's why it is important to have regular check-ups to assess your current health status and identify any early signs of health issues. These necessary precautions can help you prevent further health risks in the future.
However, it can put a dent in your wallet to use preventive health services every year. Here is a table showing the costs of preventive care and treatments for some common women's health issues in the U.S. and Hong Kong, such as Pap smear, a screening procedure for cervical cancer and Mammography, which is used to detect breast diseases.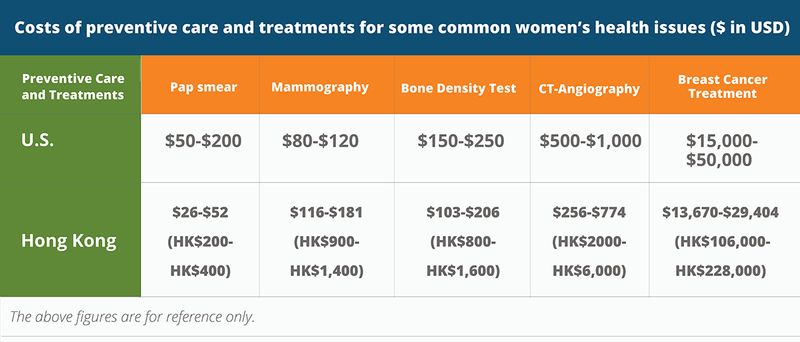 How a global health plan protects women physically and financially?
Josephine, at age 30, is an expat working in Hong Kong and often takes business trips to other countries. During her trip to the U.S. two years ago, she started to feel a lump and pain in her right breast. Since her aunt had breast cancer five years ago, she was very anxious and visited a doctor immediately. After getting a mammogram and an ultrasound scan to screen for breast cancer, she found that the lump turned out to be a fibroadenoma, the most common benign breast tumor in women. The doctor suggested her to have imaging tests every 9-12 months to keep track of the changes in appearance and size of the tumor. In the end, she needed to pay $360 for the breast ultrasound and $120 for the mammogram.
Although she was able to afford the costs, the annual check-ups still put a burden on her. To her relief, the global health insurance plan she bought few years ago provided coverage for both services. The company also paid for the annual medical check-ups she had in the following years. She is now in better control of her health conditions and relieved from financial worries.
Cigna's global health plan gives women adequate health protection
As a renowned global health insurance service company, Cigna caters to people of all ages and both sexes. Their global health plan provides customers with essential cover for inpatient and day patient treatments along with easy access to a large network of healthcare professionals around the world. The policy also provides coverage for preventive care including advanced medical imaging and diagnostic tests such as X-rays and ultrasound scans.
Customers can choose among three distinct levels of cover (Silver, Gold Platinum), with a host of optional modules which include International Health & Wellbeing, covering the beneficiary for screenings, tests, examinations and counselling support for a range life crises. Preventive health measures such as routine adult physical examinations, bowel cancer screening tests and bone densitometry are covered. In particular, female beneficiaries under platinum plan can receive full coverage for pap smear and mammograms for breast and cervical cancer screenings. Please refers to the official product brochure and policy contract in details.
Cigna's strong and professional Customer Care Team is available 24/7/365 to provide multilingual customer services whenever you need it. For more details about the product, please click here or call MoneyHero.com.hk's hotline: (852) 2866 7791 (Mon to Fri 9:30 – 7pm) for free comparison services.
Cigna is committed to be your health and well-being partner. We offer insurance solutions at the right place and the right time
For more information about Cigna, click here.
If you are travelling with your children, it is wise to make sure you are financially prepared and find the right international health insurance plan to protect you and your child. Read More: 6 Helpful Tips for Choosing a Global Health Plan for Your Child
Compare International Medical Insurance using our comparison tool and save up to HK$ 12,000 per year on your medical insurance.
——
Visit MoneyHero.com.hk Blog for more money saving tips and financial advice. Don't forget to follow our Facebook Page!