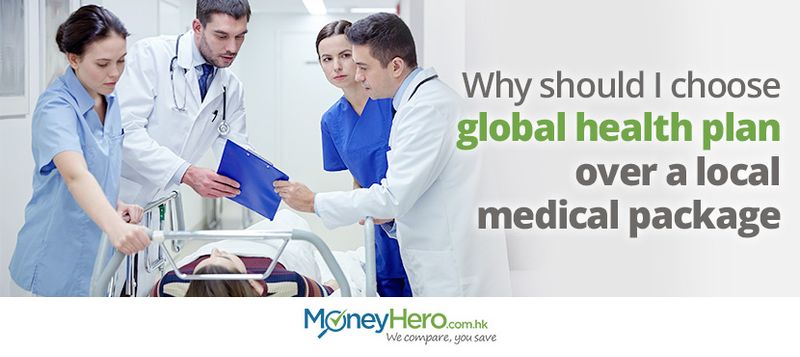 Living and working abroad is fun and fascinating, but one minor health problem could easily spoil your experience overseas. That's why it's important that you have adequate medical insurance cover before you set out. Finding the appropriate level of health coverage, however, can be a challenge if the quality of your local healthcare system falls short of your expectations. In fact, if you travel to different countries frequently, you should opt for an international health plan rather than a local package. Here are five main reasons why you should do so.
1. Restriction on Benefits Limits
"I've had a hiking accident, and I want to know that the treatment I get, my costs will be covered"
The benefits of global health insurance plans usually are set up with large lump sum yearly maximum limits without sub-limits for each specific item. For most local medical insurance plans in Hong Kong, there are usually sub-limits for each small benefit item, such as room and board charge, doctor's fee, surgery fee etc., you might not be able to claim full amount if admitted to hospitals. Cigna Global plan, for instance, provides three levels of essential core cover (Silver, Gold and Platinum) with respective annual benefits up to $1 000 000, $2 000 000 or even unlimited coverage.
2. More Flexible Options of Medical Benefits
"Looking after myself is more than just going to the Doctor when I'm sick"
Global medical policies also offer more flexible options of medical benefits. Local medical plans mainly provide inpatient cover as a basic plan, optional cover for outpatient and dental services while global medical policies usually provide in addition to those two options, some of them are medical evacuation, screenings, tests, examinations, vision care, routine maternity benefit and childbirth cover, as well as various deductible options to choose from.
3. Sizeable Global Health Service Network
"I want to be able to access help when I need it"
Local medical plans also pale in comparison with international health plans in terms of the size of global health service network. With a large network covering an enormous number of medical facilities and professionals from countries around the world, global health plans allow customers to receive the most appropriate healthcare services at a lower cost when they are travelling overseas. With local health plans, the network of global health services providers could be much smaller, and you may run into difficulties when seeking treatment outside the city
4. The Option of Direct Billing
"My life would be much more pleasant if I could avoid the administrative work of making a claim"
In addition to the limited size of health services network, another drawback of a local medical plan is that you have to follow a complicated procedure to lodge a claim for medical costs incurred overseas. The claims procedure is time-consuming and the bills may be settled in foreign currency. Global health policies, however, come with the option of direct billing, meaning that the health insurance company will pay the medical facility directly so that you don't have to pay out of your pocket for the treatment and claim back the medical costs later.
5. Multi-language Sales and Service
"Is there someone there who can speak English, please?"
Global health plans save you the hassle when you want to seek help and services from your service provider in your native language. Targeted mainly at local people, customer service provided by local health packages can sometimes be confusing to expats that they might find it difficult to overcome the language or cultural barrier. On the other hand, the customer care team for global teams will be available 24/7 to provide assistance in different languages to customers all over the world in case of emergency situations.
Why Choose a Cigna Global Health Plan?
With the aim of helping customers improve their health, well-being, and sense of security, Cigna provides a comprehensive global medical insurance policy to expats, families and individuals around the world, offering higher coverage limits and easy access to a large network of trusted hospitals, physicians and other medical professionals.
Cigna Global Plan also brings customers the flexibility to tailor a cost-effective plan to suit their individual needs, with a vast range of optional modules that provide wide cover for vision care, screenings and testings against common illness and diseases.
As a reputable health insurance company, Cigna builds a strong and professional Customer Care Team who is available 24/7/365 to provide multilingual customer services whenever you need it.
For more details about the product, please click here or call our hotline: (852) 2866 7791 (Mon to Fri 9:30 – 7pm) for free comparison services.
——
If you are looking for a global health insurance plan, here are some tips that you could follow when choosing the best provider: How to Choose a Global Individual Health Insurance Plan.
Visit MoneyHero.com.hk Blog for more money saving tips and financial advice. Don't forget to follow our Facebook Page!