It's no secret that weddings can be expensive. It's even more true when you do a traditional wedding, complete with dowries, traditional performances, and all the (wedding) bells and whistles. Having more than one reception can be very draining to the wallet as well.
You can now visit CreditGo.com.hk, our sister site and Hong Kong's first and only free credit score and report platform, to obtain your personalized credit report. It only takes a few mins to check your score and find out if you are eligible for the lowest interest rate loan offer! Take a look now!

Because of all the expenses needed for the celebration, it's not surprising that couples tend to take out loans just to finance the wedding of their dreams. Of course, it's not uncommon for family members to also contribute to the expenses, lessening the financial burden for the marrying couple.
But how much does it cost to hold a wedding in Hong Kong? From wedding gowns to reception catering to wedding bands and engagement rings, there are so many expenses to be taken into consideration for the planning and execution of the wedding. The food and invitations will depend on how many people you invite, and most people consider inviting extended family from both the bride and the groom's families. There are also wedding favors to consider giving out as a sign of gratitude to the attendees.
MoneyHero has compiled a list of the expenses related to weddings, and how much people usually spend on them. We also took into consideration how much a honeymoon would cost, and added it to the total spending for a wedding.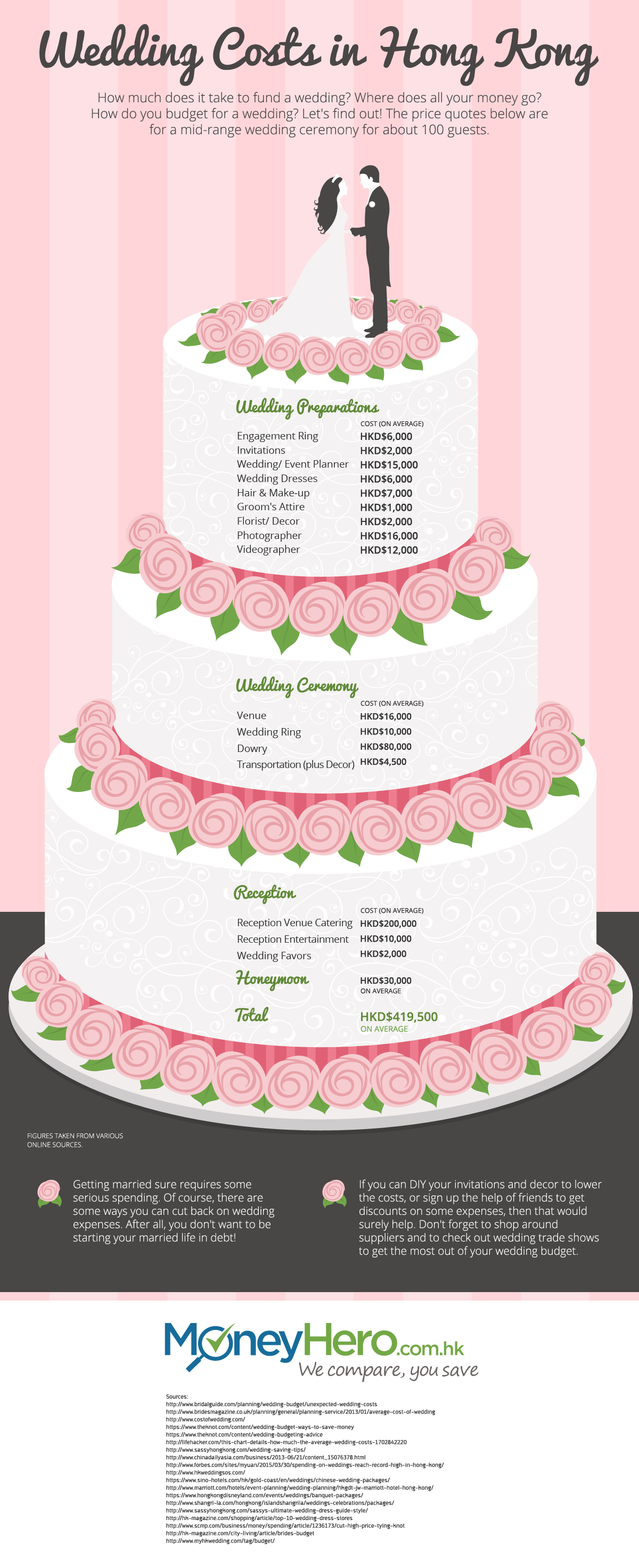 There are, of course, items on the list that you can find cheaper, or DIY so you save more money. With proper planning and budgeting, you can definitely afford to have an inexpensive wedding celebration.
Should you get a personal loan to finance your wedding? Tell us in the comments.
Take the personal loans usually offered by the banks in Hong Kong as an example. If one would to borrow HKD$200,000 in total from a bank for a repayment period that lasts 3 years, he or she would have to bear on average about 0.200% as the monthly flat rate. For more information about different personal loan plans in the market to be compared, please visit MoneyHero now.
—