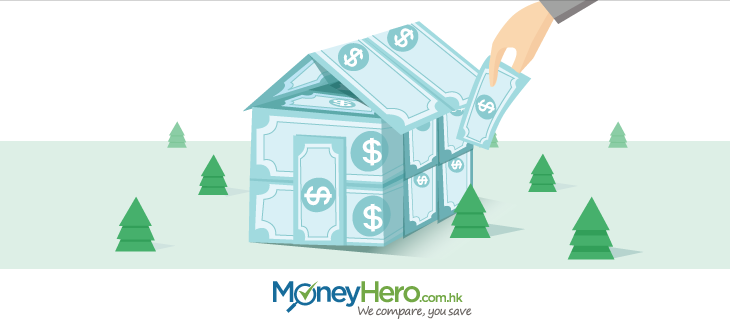 Aftermath of the new property cooling measures: Is 90% mortgage plan a lost cause?
The series of new property cooling measures introduced by the government (which was deemed as "measures of mass destruction" by the general public) crashed the dream of many prospective first-time home buyers, especially those who have been saving up relentlessly for a down payment. For one, the maximum loan-to-value (LTV) ratio for self-use residential properties with value below HK$7 million will be lowered from 70% to 60%.
Difficult as it is to save up for 30% down payment, most people would've preferred to take out a 90% mortgage plan in the past. However, the latest measures further targeted the Mortgage Insurance Programme, which has been providing a maximum cover of 90% LTV for homeowners. Effective immediately, the HKMA has suspended applications of mortgages exceeding 80% LTV ratio, with the exception of regular salaried first time homebuyers. As the LTV has lowered to 80%, this means that buyers need to cough up an extra $400,000 for the down payment of a HK$4 million property!
The question naturally leads to this – is there any other way out? Read MoneyHero's analysis below to find out whether it is still feasible for you to get a 90% mortgage plan, and most importantly, how to get one. You can also compare different mortgage plans on MoneyHero's mortgage comparison portal.
Under the newly-enforced standard, the maximum LTV ratio applicable to properties with value at HK$6 million or below will be subject to a LTV cap of 60%. If you were to borrow more than that, there are mainly two ways: (1) Take out a second mortgage (2) Apply for the Mortgage Insurance Programme operated by the Hong Kong Mortgage Corporation Limited (HKMC). The fees and requirement for these two approaches are naturally different. The former is more lax but charges a higher fee; while the latter has stringent terms but costs less.
Second Mortgage Plan
Second mortgage plans are mostly offered by lending companies, property developers or agencies. In general, the second mortgage plan has a loan tenure of up to 20 years and its interest is usually higher than that of the first mortgage plan by 1% to 2%. Second mortgage plans are mostly Prime Rate-Based Mortgage Plan, although a handful of HIBOR mortgage plans are also offered.
To attract homeowners, some property developers would offer an interest-free or low-interest second mortgage plan for the first two or three years into the tenor, and some would provide a loan tenor of up to 25 years. However, these plans are usually only available to selected properties and new property developments. Some property developers even go so far as to pose restrictions on the layout and size of properties eligible for second mortgage plans.
The risks involved in second mortgage plans vary, but the main difference lies in whether such plan is approved by the bank that grants the first mortgage. Most banks prohibit homeowners from taking out another mortgage on the same property, but second mortgage plans offered by property developers usually have the consent of the bank. The ones advertised on TV or the newspaper are offered by lending companies, and are mostly processed without the bank's endorsement, posing a certain risk on the homeowner's part.
If the bank realises there has been a breach of contract (including taking out an unauthorised second mortgage or obtaining a mortgage from a third party), it is entitled to exercise its right as stipulated on the contract, for instance, demanding an earlier repayment of the loan (commonly referred to as "call loan"). Moreover, second mortgage plans offered by lending companies usually don't require any title deeds, as the mortgage is by essence a personal loan, and the interest rates can be as high as 20 to 30% (lowest rate is 12% or 13%).
This is why the most secured second mortgage plans are those offered/agreed by the bank, which are usually provided for new properties by relevant financial institutions in cooperation with the developers.
On the other hand, banks also team up with the HKMC to render second mortgage services. Here is how it works: banks will offer a loan amount of up to 70% as a first mortgage, while the remainder (maximum of 20%) is offered by the HKMC. If you apply for a second mortgage, you will have to comply with the interest rates of the HKMC, plus pay the additional handling fees. These second mortgage plans provided by the bank with HKMC mainly target applicants who are not qualified for the Mortgage Insurance Programme, such as those who are self-employed.
Mortgage Insurance Programme (MIP)
With that, we come to the second approach of getting a 90% mortgage, the Mortgage Insurance Programme (MIP) . Under the new measures, the maximum MIP cover has been lowered from 90% to 80% LTV. Yet regular salaried first time homebuyers with a maximum debt-to-income ratio of 45% may still be eligible for the maximum MIP cover of 90% LTV.
MIP offers mortgage insurance for those who wish to borrow more than the loan-to-value (LTV) requirement. Under the new measures, the extra amount of mortgage over 60% of LTV should be covered by MIP.The premium of MIP depends on property value and maximum LTV ratio. The mortgage that is covered by MIP enjoys the same interest rate as the bank's mortgage; but lower than second mortgage plans of HKMC, which is much lower than the interest rate offered by Second Mortgage. The premium of MIP is also lower than the handling fee of second mortgage plans. Therefore, the MIP plan is the best option in terms of costs.
However, a 90% maximum LTV ratio is subject to properties with value at or below HK$4 million. Added to that, the new measures from HKMA restrict the debt-to-income ratio to a maximum of 45%, which makes it even harder to get a 90% mortgage plan. Some banks have teamed up with the HKMC to provide such plans. For more information, please visit Citibank's mortgage page and fill in the online enquiry form to know more about their MIP mortgage.
—
Find more ways to save money on financial products like personal loans and credit cards by navigating Moneyhero.com.hk. Visit MoneyHero Blog for more money saving tips and financial advices. Don't forget to follow our facebook page!