Due to the high density population in Hong Kong, peace and privacy are often considered as a form of luxury in the city. If you wish to have a large living space without spending a ortune, perhaps village house is the ideal house for you. Although there are numerous regulations and complicated procedures that come with buying village houses, we've narrowed it down and compiled a list of factors to consider when buying your dream house in Hong Kong:
Proof of ownership
Before buying a village house, prospective buyers require vendors to show their proof of ownership, which should entail the official or certified copy of the Government Lease. The vendor should either be the lessee of the land on which the Village House is built or be the grantee under a New Grant, or the assignee or successor in title of the lessee grantee. Moreover, the vendor should also be registered with this title in the relevant NT Land Registry under the Land Registration Ordinance.
Resale Restriction
Other than checking the proof of ownership, prospective buyers should also research extensively on the rights of occupation of land. Village houses tend to be located in the New Territories and the rights of occupation of land is usually complicated in this district than Hong Kong Island – for example, certain pieces of land can be resold, but some are forbidden from reselling. To avoid the phenomenon of having rights to the house but not the land, please ask the vendor for the provisions of the building license.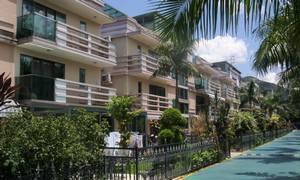 The Right of use of Road
Prospective buyers should also double check the right of use of road. Villages may have numerous small roads and trails, but some of them are for private ownership only. Even if the road is right next to your house, it may not officially belong to you and you may be asked to pay a monthly fee of a few hundred dollars. Therefore, before making the final decision, don't forget to ask your real estate agent or vendor for a solution for this problem.
Illegal Rooftop Structures
Other than checking the right of use for the garden and rooftop, prospective buyers should also check whether the given village house contains any illegal rooftop structures. Illegal rooftop structures tend to refer to unauthorized building works. If you're suspicious of possible illegal rooftop structures on the given village house, don't forget to take a photo of it and request the vendor to get rid of it before buying the village house.
Mortgage
When applying for a mortgage, prospective buyers should consult banks that are specialized in village houses, such as Wing Hang Bank, Dah Sing Bank and Fubon Bank. The maximum Loan to Value ratio for village houses tends to be 70%, therefore prospective buyers may have to save up a larger sum of down payment before making the purchase.
-------

Squarefoot.com.hk, a leading media brand in Hong Kong, is dedicated to providing property listings and information on the Hong Kong property market.
This post is also available in 中文.
----
Find more ways to save money on financial products like mortgage, medical insurance, travel insurance, personal loans and credit cards by navigating Moneyhero.com.hk. Visit MoneyHero Blog for more money saving tips and financial advices. Don't forget to follow our facebook page!