It's all about exclusivity.
Hong Kong being home to more than a handful of millionaires and billionaires, local banks offer a range of premium credit cards as a way of extending special treatment to their most valued clients. Many of the exclusive credit cards are by invitation only, offered only to high net-worth individuals and those who spend millions of dollars on credit. Let's take a look at ten of the most expensive and exclusive credit cards that can be found in the wallets of some of Hong Kong's wealthiest.
You can now visit CreditGo.com.hk, our sister site and Hong Kong's first and only free credit score and report platform, to obtain your personalized credit report. It only takes a few mins to check your score and find out if you are eligible for the lowest interest rate loan offer! Take a look now!
No. 5: American Express Platinum Card

This Invite-Only card carries a hefty annual fee of HKD 7,800. The card automatically enrols cardholders in the AMEX Membership Rewards Turbo Program, where they can earn 2 points for every HKD 1 spent. Cardholders also get to enjoy the privilege of instant recognition at the most luxurious hotels and resorts worldwide. Priority Pass is also given to card owners for unlimited free access to over 600 VIP airport lounges worldwide.
No. 4: Citibank Prestige Card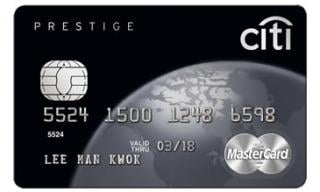 The Citibank Prestige Card has one of the highest minimum annual income requirements among all credit cards offered in Hong Kong. To qualify for one, you need to earn a minimum annual income of HKD 600,000 or more. Cardholders can enjoy complimentary nights at over 700 luxury hotels in some of the most fabulous cities in the world, as well as complimentary green fees at over 2,400 golf courses around the world. Cardholders enjoyed unlimited complimentary global airport lounge access via Priority Pass.

No. 3: Hong Kong Jockey Club Membership MasterCard (Issued by Hang Seng Bank)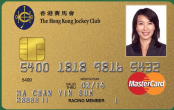 At first glance, this MasterCard may not look as fancy as the other cards; at best, it is special because there is a photo of the card owner on it. So why exactly can it make No. 3 on our list? The answer is simple -- this MasterCard is also the membership card of Hong Kong Jockey Club (HKJC). Membership to the HKJC is divided into 5 categories. The most prestigious Racing Club members are usually those with horse ownership and can enjoy the privilege of naming their own horse. It is so exclusive that only a handful of people in Hong Kong will be approved by the Club (you can imagine how much membership fee would cost). So let's talk about the more "basic" kind of membership: Racing Member. You need to pay an entrance fee of $125,000 and an extra monthly fee of $750. On top of that, you need to know the right people to become a member. Racing members must be proposed by a voting member of the HKJC. So the owners of this MasterCard is not only rich, but also enjoy exclusive status in the society. No wonder it can make it to the top 3!
No. 2: Citibank Ultima Card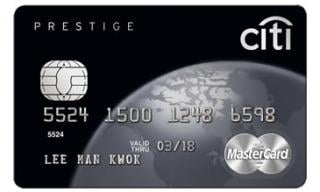 There are only about 1,000 people in the city given the privilege to flash this by-invitation-only credit card. It charges an annual fee of HKD 23,800 with mysterious annual salary requirement. Stopped sending out invitation since this year start, its highlighted features include a dedicated Lifestyle Relationship Manager handling your lifestyle needs, great rates for yacht charter services and airport transfer limousine services. The privileged cardholder also gets 120,000 complimentary Asia Miles every year.
No. 1: American Express Centurion Card
This is the mythical black credit card that only a rare few are given the privilege to own. There's an air of mystery as to the specific benefits of the card as AMEX doesn't really make this information known to the public—but of course, that only adds to its appeal. The card, as you might have guessed, is by invitation only, with an annual fee of HKD 38,800. There's also an initiation fee of HKD 5,000. The Centurion card gives access to some of the most exclusive private clubs in HK and other parts of the world. It has no pre-set limit, in theory. The largest purchase ever made on this card was reportedly worth USD 36 million for a rare, antique porcelain chicken cup.
----
Did reading about these expensive credit cards give you motivation to work even harder? If you are not earning enough to apply for these cards yet, don't be frustrated! There are plenty of credit cards out there that could bring you neat offers and promotions. Visit our website now to pick one that suits your needs!
MoneyHero is Hong Kong's No.1 comparison site for financial products. If you want more information about credit cards, loans and insurance, visit MoneyHero's website now! Like our facebook page and we will bring you all the latest promotions and offers!