With strategic credit card spending, you can always earn air miles without even boarding a flight. That's why the team of money saving experts at MoneyHero.com.hk have compiled a comparison table to show you how to pay for monthly water, gas, electricity, insurance premium and octopus card with your cards to rack up miles. Be aware that the offers are only available to specific types of cards and payment methods.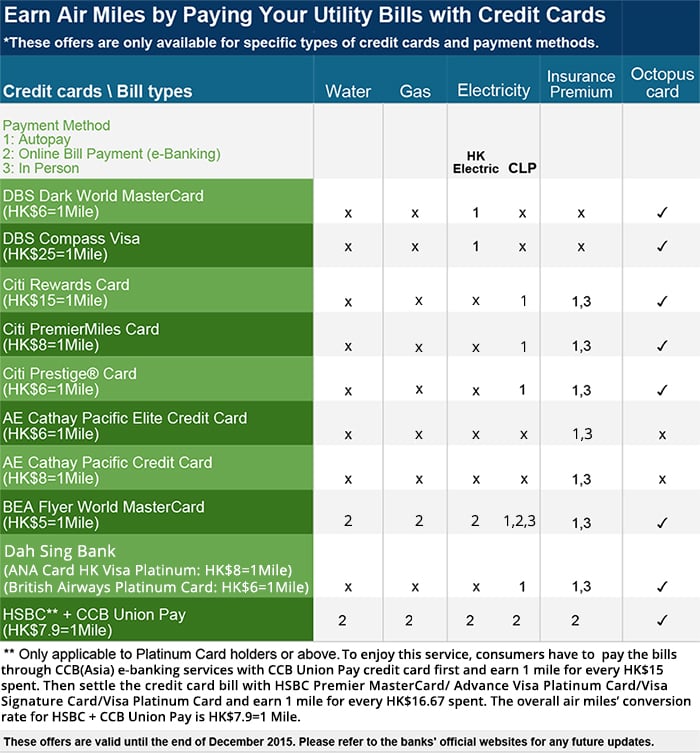 Electricity and Insurance Premiums – the Easiest Way to Earn Air Miles
Unlike water bills which can only be settled through e-banking with two credit card providers, monthly electricity and insurance premiums can be paid for with a larger variety of credit cards that each offer different air miles rewards.
Earning Miles with Electricity Bill Payments Depends on Where You Live
Citibank credit cardholders who live in Tin Hau for example, where electricity is provided by HK Electric, cannot earn air miles through bill settlement with Citibank cards. On the other hand, those living in Mong Kok, where electricity is provided by CLP Power, can pay for electricity bills using autopay and rack up miles at the same time. So check with your power provider to maximize your mile earning potential.
The Best Credit Cards for Earning Miles While Paying Bills
HSBC Platinum Card and BEA Flyer World MasterCard are great options if you want to earn miles by paying utility bills using credit cards. Hands down, BEA Flyer World MasterCard offers the best deal, as you can make almost all types of bill payments through their e-banking services and earn 1 mile for every HK$5 spent.
–
Read More: 4 Simple Tips to Spend Less on Your Credit Cards
Find out more about which credit card can help you be a smart spender by comparing now at MoneyHero.com.hk!
Visit MoneyHero.com.hk Blog for more money-saving tips and financial advice. Don't forget to follow our Facebook Page!