Happy Tuesday mid-week travel dreamers! It's never too early to plan your next vacation! Part of the Oneworld alliance, Cathay Pacific has recently announced recent changes to its air miles earning program, which will be in effect next April 15, 2016, affecting its frequent flyers program, the Marco Polo Club.
So then, what does this mean for frequent flyers...or maybe those that don't fly as frequently, or do but opt for more economical options? Well, it's pretty mixed. MoneyHero.com.hk gives you an easy breakdown so you can fly faster and further with Cathay Pacific's Marco Polo Club program:
1. Earn Club Points, soon to replace earning Club Sectors & Club Miles
Current: earn by percentage (%) of miles flown, by four classes
New: depends on the airline chosen, class, specific fare, and miles flown per flight (see chart below)
2. The class fares will be broken down more into sub classes
Current: Premium Economy Class (W,R,E)
New: Premium 1 Economy (Class W,R) and Premium 2 Economy (Class E)
3. Qualifications for each Marco Polo Club Tier increase
Green: 0 Club Miles/4 renewed Club Sectors to the new 100 Club Points
Let's take a look here at how many flights and which types you would take to be qualified for the green tier:
What it currently takes: 1 round trip consisting of 4 single flights, e.g.) Sydney to London and back via Hong Kong (SYD - HKG - LON - HKG - SYD) on the lowest economy fare.
What it will take: also on the lowest economy fare (Economy 4: S, N, Q), but 2.5 London return trips OR, still just 1 return London trip, but on a higher fares.
Using a Hong Kong to Sydney flight example in the new Points system and flying Business Class (D, I) and Premium Economy (E), MoneyHero.com.hk shows how many flights you would need to take in order to stay in or get up to the next tier, with the new Club Points.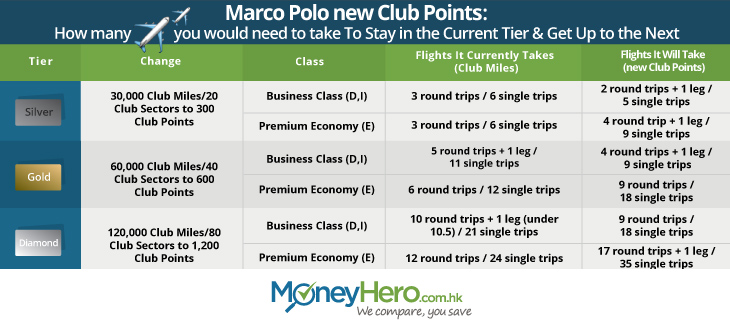 Generally, whichever tier you are in or would like to move up to, you are now able to fly faster in the new points system, so long as you opt for business class or above.
At a glance, MoneyHero.com.hk gives each tier's general benefits.
Green members will enjoy priority check-in, boarding, and a dedicated line, flight reservations via 24-hour Service Line, and the option to get extra-legroom seats via miles redemption, the option to receive extra baggage via miles redemption and lounge access via miles redemption. While via an enrolment of US $100 is the requirement with new Club Points, the status can be retained so long as members earn 100 points within the year, or by paying an annual renewal fee of US $100.
Needless to say, Silver members will enjoy all of the above with unlimited access to Cathay Pacific Business Lounges or Dragonair Lounges, extra baggage allowance starting at 10kgs (redeemable with miles if heavier), and access to extra legroom.
Moving on to Gold, members can also access the above lounges and also welcome a guest, get extra baggage allowance starting at 15 kgs (redeemable with miles if heavier), access to extra legroom, and certainly, being able to reserve an Economy Class (Class Y) just 72 hours beforehand.
Last but not least, Diamond members will have unlimited access to Cathay Pacific's First Class & Business Class Lounges, Dragonair's Lounges, and be able to book guaranteed seats in Business, Premium Economy, or Economy just 24 hours in advance (J,W, Y fares).
4. Cathay Pacific, Dragonair flights will earn more than Oneworld flights
Key Takeaways:
For Diamond, Gold, and Silver Tier holders:

generally,

after premium economy, so beginning with business, it will take less in the new system than the current points system to earn/remain in each tier

In the new points system, the

higher the class flown

(generally: first, business vs. premium economy, economy), the

greater

multiples of

points

will be earned on

longer

haul (

miles

flown) flights than on short haul flights in the same class vs. a lower class.
Examples:
Business Class 1 (J,C): If you fly short (750 miles), you get 30 points. If you fly ultra-long distance (7500 miles), you would get 120 points; 4 times the points.

Premium Economy 2: (E) If you fly short (750 miles), you get 15 points. If you fly ultra-long distance (7500 miles), you would get 50 points, 3.33 times the points.

Economy 4 (S, N, Q): If you fly short (750 miles), you get 5 points. If you fly ultra-long distance (7500 miles), you would get 10 points, 2 times the points.
Case in point: Flying on business and first will earn more points, and will also earn them faster, when flying longer.
Earning Asia Miles

will not be affected - Asia Miles still be reflected in miles. So again, if you've been you've been flying on business and above, you will be earning points even faster.

You get

mid-tier benefits

(good for travelling with your another person...which is in most cases right?)
On your way from Green to Silver, when you are at 200 Club Points, enjoy 1 lounge pass. Similarly, from Silver to Gold at 450 Club Points, from Gold to Diamond when you have got up to 800 points, and lastly when you've reached 1400, enjoy 2 lounge passes!
Read more to find out how to earn air miles by paying utility bills!
Conclusion:
If you are already a frequent flyer - congrats! You get to fly even more faster, with the new program in effect soon. If you already enjoy flying business and first, then sit, back, travel, and enjoy!
If you are less of a frequent flyer, and generally opt for economy or premium economy, you may want to consider flying longer haul (perks: travel farther, travel more) to earn more Club points to get to the next tier. After all, travelling is all about going somewhere new, isn't it?
Read More: Up, up We Go: Fly For Miles' Blogger Regis shares his Passion for Smart Travelling
Find your best travel partner (yes - the best credit card for you) with MoneyHero.com.hk. Check out our credit card comparison portal here.
Visit MoneyHero.com.hk Blog for more money saving tips and financial advice. Don't forget to follow our Facebook Page!