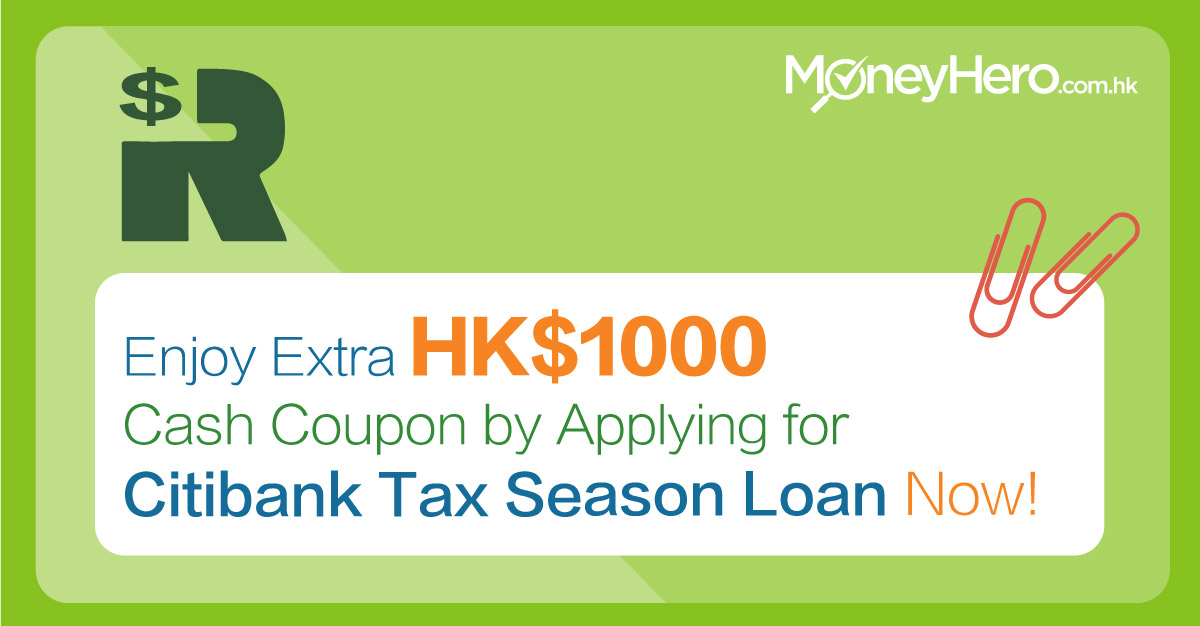 MoneyHero.com.hk and Citibank have teamed up to bring you an exclusive offer for Citibank Tax Season Loan or Personal Loan products – available ONLY via MoneyHero.com.hk.
From now until 30 April 2017, customers who successfully apply for and drawdown Citibank's Tax Season Loan* or Personal Loans (with loan amount of HK$100,000 or above and tenor of 12 months or above) through MoneyHero.com.hk can enjoy exclusive HK$1,000 Wellcome cash coupon in addition to the interest rebate reward offered by Citibank.
*Citibank Tax Season Loan offer is valid until 28 Feb 2017.
You can now visit CreditGo.com.hk, our sister site and Hong Kong's first and only free credit score and report platform, to obtain your personalized credit report. It only takes a few mins to check your score and find out if you are eligible for the lowest interest rate loan offer! Take a look now!
 Always Compare tax loans with APR
With the second personal tax installment due in April, it's time for taxpayers to settle their tax liabilities. If taxpayers, however, are facing a scary tax bill or finding themselves in need of a bit extra cash after the festive season, they may be better off taking advantage of the competitive tax loan rates currently available in Hong Kong.
"Tax loans are cheap loans offered by banks in Hong Kong during tax season with lower interest rates and shorter repayment tenors than personal loans." Rachel Lam, managing director at personal comparison website MoneyHero.com.hk says.
"When choosing between various tax loans, consumers should compare the Annualized Percentage Rate (APR), a reference rate that takes base interest and other extra charges like handling fees and service charges into account. This reflects the real cost of borrowing."
Read More: How to Pay Taxes in Hong Kong – A Quick Guide for Expats
Citibank's Tax Season Loan with APR as low as 1%
As a result of higher demand from consumers this year, banks are offering tax loans with record low interest rates, which attracts more borrowers to take out tax loans for purposes other than paying their bills, such as education, home decoration and even investment. Take Citibank Tax Season Loan as an example, if you apply to become new Citigold client, you can enjoy APR as low as 1%(inclusive of up to $5680 interest rebate). Existing Citigold customers can also earn up to HK$3,000 interest rebate and enjoy a repayment term up to 48 months. Even if you do not have a banking or credit card account at Citibank, you can enjoy APR as low as 1.59%*.
Click here to find out more about Citibank Tax Season Loan.
* This offer is subject to the "Terms and Conditions for Citibank Personal Loan".
Last Chance for Cheap Tax Loans! Offer Ends soon!
As the second installment of personal taxes will soon be due, application for tax loans from most banks is open until the end of February and likewise Citibank will extend their tax loan offer until the end of this month. On the other hand, Hong Kong Monetary Authority warns that US interest rate will rise this year. If you are looking for cheaper money, you shouldn't miss this chance!
Download the Excel file now.
Read More: 6 Must-Know Tips to Get the Best Tax Loan in Hong Kong
Read More: Corporate Cards: Features, perks and how to get one for your business
Check out our Tax Loan Comparison Platform to find the best Tax Loan for you!
Visit MoneyHero.com.hk Blog for more money saving tips and financial advice. Don't forget to follow our Facebook Page!