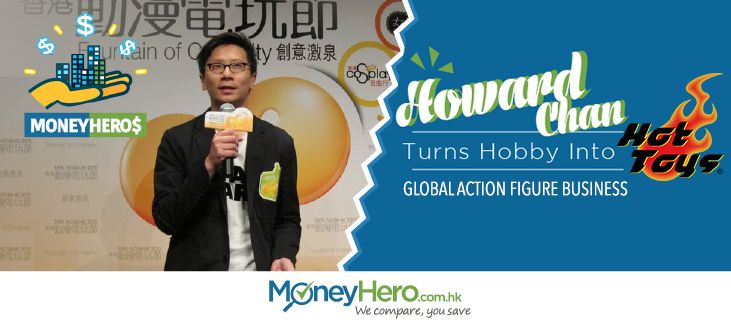 Childhood dreams come alive at the annual China International Comics Festival Expo (CICF 2015) that began on the 1st of October this year; and what began as one man's passion rose to become the world's most iconic action figures – Hot Toys. Established in 2000, the company originally focused on the production of 1:6 military action figures prior to leading in toy production for entertainment's biggest characters – including the likes of Marvel and Disney. With a stringent standard for high quality, Iron Man, Batman, Captain America, Luke Skywalker & Spider-man represent their big screen presence when placed in the hands of our children (or our own, for die-hard toy collectible fanatics) hands, made possible by founder Howard Chan, whose five hacks may be worth studying.
1. Passion = Career
Passion is one thing; being able to fill a niche market with that passion is another. As a former screenwriter of Hong Kong media powerhouse TVB, Howard decided to open his first store in Causeway Bay in 1998, when he started selling military figures and Star Wars toys. There was a lack of local production in action figurines, so he thought to himself, "Why not?" Being frugal, he took an educated gamble by putting all of his savings and dedicated a year of his life into creating a fighter-pilot figure, the very first five thousand pieces which flew off the shelves instantly. Hence Hot Toys, with the support of his business partner and friend, began in 2000, and since then the business as flourished.
2. Never Sacrifice Quality
Standards matter. The highly-articulated features and realistic look Hot Toys figures have been able to replicate are key features to its popularity and success. Saving on cost production is the second priority as quality remains first. Walking the walk, the detail-oriented founder had spent three nights in a Dongguan factory to make sure all visual elements were right for the miniscule walkie talkie on an already tiny figurine. To this end, his production team must carve out figures' heads each time before getting it right, and Howard is fully satisfied. An established reputable appearance and quality among fans and collectors in Hong Kong came to be.
3. Catch the Trend
It would only be a matter of time before globally popular comic books and movies would come to life – as closely as it could – in the form of toy figures. However, getting the licensing deals was no walk in the park and rejection happened often. The license to create Aliens vs. Predator franchise through a Japanese agent proved the quality of Howard's work, defined by attention to the most trivial of detail. Inspired, Movie Masterpiece Series (MMS) was confident in moving forward with using Howard's production. Having made Hot Toys presence in Hong Kong, its various collections became a household item in Japan, Korea, as well as the States. Oscar-winning director James Cameron offered to give the company the rights to make Avatar collectibles as well!
4.Stay Cool in the Face of Competition
The better one gets, the fiercer the competition. Hot Toys adherence to their strict principles caught the attention of the International Licensing Industry Merchandisers' Association, which awarded the company the "Best Licensee of the Year 2014" for Captain America: The Winter Soldier.
5. Sportsmanship & Kindred Spirits
Operating a business alone is challenging, so Howard teamed up with two professional carvers from Korea, who shared the same values of quality craftsmanship and played an active role in creating the final product
The road to success is never smooth, but what achievement comes easily? Hot Toys has proven itself to be one of the leading figurine manufacturers of the world, with the acquisition of the right to produce collectibles for the Star Wars universe and the upcoming Star Wars: The Force Awakens released in this December. What a dream come true for Howard, who has been a dedicated Star Wars fan since childhood.
Howard is living proof that you CAN transform your hobby into a business !
—
Inspired? Or Want to Be?
Need more money to start your own business? You might want to take out a loan by using our comparison portal.
For more wealth tips, check out MoneyHero Blog for more money saving tips and financial advices. Don't forget to follow our facebook page

!