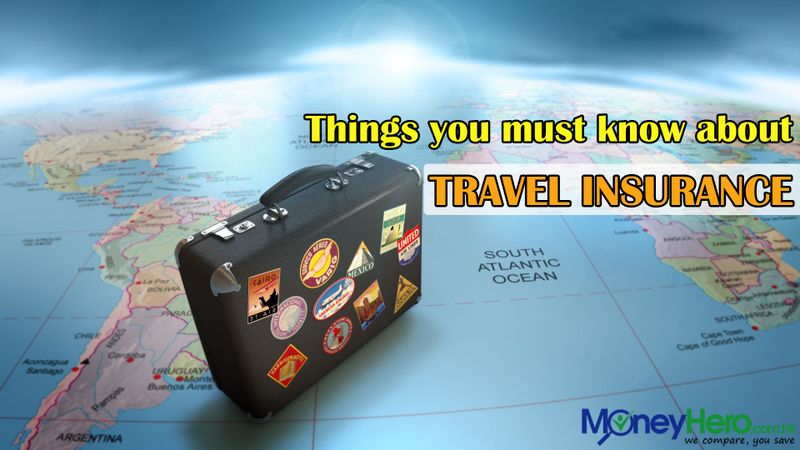 MoneyHero, the leading comparison site of financial products in Hong Kong, recently added another comparison service — travel insurance. From now on, you can use our website to compare travel insurance plans offered by major companies with just a few clicks.
Before using our website, let us review with you some hidden dangers in travel insurance small print that might come as a shock for you. Read on to ensure accidents during your trip is really covered!
It is no secret that Hong Kongers love to travel. Based on a survey, in 2013, the number of Hong Kongers who travelled outbound by plane is as high as 8.6 million. It is anticipated that the number will continue to rise steadily. According to the World Tourism Organization, the amount Hong Kongers spent while abroad ranked 4th in Asia and 14th internationally.
Undoubtedly, there is a huge demand for travel insurance in Hong Kong. But the odd thing is, there isn't any comprehensive travel insurance comparison site before MoneyHero came along. With incomplete information, you won't even know if you've been paying more than you should have! That is why MoneyHero decided to put forth a comparison service for travel insurance.
This service will help everyone plan their dream vacation by looking for suitable travel insurance plans with ease and make sure any accident or loss during your trip will be covered .
So, without further ado, take a look at these hidden conditions in travel insurance small print!
1. Baggage and personal effects
It would be headache if anything is lost or stolen during your trip. Most insurance plans cover your baggage and personal effects, but you must be aware of the following points if you want to make a claim.
You must file a loss report with the local police within a designated time (usually within 24 hours), and present the police report when you make a claim.
Parents need to be aware of this small print: If the insured person is under age, he or she is usually not covered for the loss of baggage and personal effects.
You must be able to prove that your loss is not due to the absence of supervision.
If you want to make a claim for lost properties (including the loss of baggage by airlines), you must present the replacement invoice or receipt. For example, if you lost your camera and purchased another one while abroad, but failed to present the receipt of the new camera, you won't be able to receive any compensation. So, remember to keep the invoice or receipt of anything you replaced.
2. Trip cancellation or delay
Any change or cancellation in your scheduled trip due to unexpected circumstances is usually covered by insurance providers. However, you should note the following conditions:
If your trip is affected by natural or man-made disasters like earthquakes or coups, you would be provided with a fixed amount of compensation. Yet, the maximum amount of compensation varies from plan to plan. An important condition is that you need to take out the insurance plan before any disaster occur. If you went to an area that is known to be unsafe, any loss will not be covered.
3. Personal accident
In the event of injuries, insurance providers would provide compensation if the following conditions are fulfilled:
If you're injured during you trip, you must visit a local doctor and collect relevant proof like a doctor's certificate or receipt. Claims without proof will not be handled so even if you don't want to be treated by a local doctor, you should visit one first. Insurance plans usually cover follow-up medical expenses incurred within two months, so you can go for follow-up doctor visits in Hong Kong.
4. Extreme sports
While abroad, some young people who like to challenge themselves will participate in sports they won't get to do in Hong Kong. But is that covered by travel insurance?
You must check the conditions and small print carefully before you depart, as every insurance provider has a different definition of extreme sports. Some sports that are usually considered dangerous are: skiing, jet skiing, skydiving and bungee jumping.
If you want to do any extreme sport, you can purchase an additional insurance plan for that.
5. Some tips about travel insurance:
You should print out a copy of your policy and carry it with you at all times. That way, in the event of any incident, you could follow the exact formalities indicated on the policy to ensure your claim to be valid. It is okay to use an e-copy, but if you lost your phone or cannot go online, you would not be able to check your policy quickly.
Write down the emergency hotline of your insurance provider and the Immigration Department. So if something bad happened (touch wood!), you can immediately call for help.
Jot down the customer service hotline of your credit card, so as to immediately report any lost card.
—
There are many hidden conditions in insurance plans, too much to count in fact. If you have any questions regarding insurance plans, feel free to leave us a comment.
If you are looking to purchase a travel insurance before your trip, remember to check out our page and compare travel insurance quotes.
MoneyHero, Hong Kong's No.1 comparison site for financial products. Visit MoneyHero for comparison of more financial products.