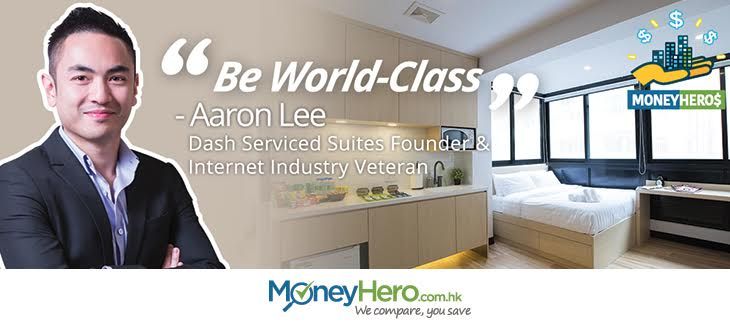 Aaron was an initial investor and Director of uBuyiBuy.com, a Hong Kong based group buying company acquired by Groupon (NASDAQ: GRPN) in December 2010. Under his leadership as Director and Head of Local Sales, Groupon HK has grown to over 150 staff with over HK$500M in annual bookings until he resigned in early 2013.
In 2012, the young entrepreneur also cofounded SHOPAME.com, a women's fashion ecommerce startup endorsed by locally renowned HK actress Linda Chung with over 15,000 shoes sold and 25,000 enrolled members in the first 6 months of business. In early 2014, SHOPAME.com merged with MYDRESS.com where the two fashion portals features branded clothing, shoes, handbags, and accessories for women across all ages.
Aaron's most recent project, Dash Serviced Suites, is a multi-location serviced apartment concept scheduled to debut in Summer 2014. With a vision to charge a disruptively lower price compared to current industry leaders, the chic serviced apartment chain will be situated in old buildings where all guest facilities are outsourced to local partners.
Aaron carries a Bachelor's degree in Business Administration with double emphasis in Entrepreneurship and Brand Management at the University of Southern California. At the age of 17, he started his first events business known as Extravaganza which secured market leader position in its sector with over 5,000 loyal members in Hong Kong. Their events are often sponsored by notable international brands such as Dom Perignon, Diva Vodka, Giorgio Armani, Guess Jeans etc. Aaron sits on the board of directors at Mydress Amé Group Limited and ZUN Hong Kong Limited. Aaron is also an active mentor to many like-minded young entrepreneurs across South East Asia.
1.

What is your mantra for success?
A:

"Be world class." It's different for everyone, but applies in the same way across my approach, attitude, standards, the way I treat others. What that means: one should aim for the best and be the best one can be, in one's current circumstances, while carrying a sense of compassion.
2.

You've gone into a few industries, how long does it take for you to decide to tackle a new industry?
A:

It was a quick decision, having grown up around property and the chance to be very hands-on on the development side of things. Creating a new type of business within a very traditional industry was really exciting once I identified the gap between demand (for housing) and supply. While people were paying too much and developers were taking years (some generations) to acquire, tear down and develop a whole building into a serviced apartment, DASH, targeted at single relocated professionals (mid twenties to forties) was the answer to filling that gap. And research was key – I still remember that I had personally visited more than three hundred apartment units before putting the project in execution.
3.

How would you explain Dash Serviced Suites to somebody who has never heard of it?
A:

As a plug and play, hassle-free, and competitively priced short to medium term housing solution, Dash Serviced Suites is the world class reinvention of fully furnished properties made to cater to the single relocated professionals for a fraction the market's traditional rentals, which start monthly from the HKD $25K – $30K range. From HKD $15K – $20K monthly, DASH's urban sanctuary in Causeway Bay, Sheung Wan, and TST offer proximity (literally a walk away from your door) to major transportation networks, dining, shopping, entertainment, and fitness areas, and exclusive benefits in these areas to its guests.
4.

MoneyHero.com.hk really always puts its customers first – we answer all our inquiries in a very timely manner – and aim to provide impartial, easy, and quick information. How would you say DASH is similar in its customer service in that sense?
A:

Moneyhero.com.hk & DASH are very similar in providing an above and beyond level of customer service. You guys reply all inquiries within a 24 hour time frame; at DASH, we provide a 24 hour virtual concierge hotline to all our guests, so whatever they are looking for, they have someone to guide them locally in Cantonese, Mandarin, and English at the touch of a button. All Dashers get access to a complimentary 24 hour tele-concierge!
5.

What is your vision for DASH in the next 2, 5, 10 years?
A:

Our long term vision is to be South East Asia's #1 Alternative to Business Hotels. While not going into a price war with our competitors, we are simply doing what makes the most sense cutting out operational costs and passing these savings back to customers through competitive rent and access to all basic and premium amenities. I'm excited that there will be at least 100 units in total in the next few months throughout to the next year in Wan Chai and Central, in addition to the current 41 units in Causeway Bay, Sheung Wan and TST.
Operating as an asset light business model where we do not necessarily have to own the properties we operate, we could launch new units very quickly, technically every three months, as we save time on acquiring, demolishing, and developing entire buildings. That being said, as long as we can provide both price and quality-sensitive value to those looking to rent, I believe demand will only continue to rise. Think about it – in a down market – you can cut a lot of things, such as going out, monthly subscriptions, a splurging habit, but you can't cut accomodation, and that's where DASH comes in.
6.

What was your toughest business decision and what was your personal choice to make to get to where you are? Would you have done anything differently if you could redo? Would you make any decisions differently?
A:

If I had to redo (starting Dash Serviced Suites) all over again, I would do it in a heartbeat. Tell you a secret, I am fortunate to have a mentor to guide me, and the mentorship has largely guided me when it comes to decision-making, which is always based on a very simple protocol – be world class. In both respects, I would say there were not majorly tough calls, and that's because there is a clear vision and direction of what needs to be done in the business, because of this protocol.
There is a leasing position open at DASH, and the first thing I would ask myself when facing the candidate, would be a simple "Yes or No" question: "Is this person world class?" Experience preferred but not required –

apply within

if you're the type or you know someone who is willing to take short-term pain for long-term gain, which in my books, is world-class!
7.

What are your top money-saving techniques, any hints or tricks you can share?
A:

Of course we all need to buy things that make us happy, but when it comes to money-saving, I'd suggest following the magic three. Here's my tough three:
Compare, just like you guys do at

MoneyHero.com.hk

, with a minimum of three options

Keep track of your monthly spending

Look for VALUE
Once you identify what you need, what you don't really need, and what it brings/has brought previously, then you'd be able to more easily identify the value, and better plan for the future.
For example, value at Dash Serviced Suites is the clutter-cutting, price-competitive, hassle-free all-access housing solution it provides. Why wouldn't you firstly compare and end up paying more (on average, from at least HK $1000 – HK$2000 per night) for the most important things – a comfortable bed and shower when with DASH, you can get the pro-rated daily rate for half of that?
Check out our easy money saving tips that even the laziest person can follow to save more.
8.

What was the last item that you bought where you actively compared prices? When making more significant purchases and financial decisions, do you compare products and how do you do your research?
A:

Always compare! Whenever I am deciding on investing in property, and every piece of property has its advantages and benefits, I am comparing both the short-term and long-term financial benefits it would bring. Research? Talk to people – family, friends, fellow entrepreneurs, visit the actual properties myself, and stay alert to what's going on.
9.

What's your view on borrowing vs. saving when it comes to first starting a business?
A:

Two very different things. Borrowing would be the cost of borrowing in order to invest and what's needed to generate cash flow to run the business. Saving-wise, it would be making DASH as operationally efficient as possible – again via cost-cutting what our customers don't need and translating it into value. Management of both are crucial for the success of any business.
10.

Which of the following savings objectives is most important to you?
– Providing money for family (to older generation)
– Buying property
– Retirement
– Further study
– Children's education and savings
– Travel
– Luxury items
– Emergency funds
– Car
A:

Only one of the above is important to me as a savings objective: buying property. I am a firm believer of investing in assets over taking on liabilities.
Asset = continuous income generators, i.e.) property → monthly income → will be able to provide for generations and beyond
Liability = savings eater → takes money out of my pocket instantly
11.

Renting an apartment and office space in Hong Kong can be very expensive, how did you manage to survive, especially in the early stages of starting a business?
A:

Our approach is thinking of rent per active headcount by factoring in growth, at least in the next two years, as most office leases are a minimum of two years. It might actually make sense to pay more now just to have that flexibility. The longer DASH is in operation, the more for value each headcount becomes. Again it goes back to not paying for something you don't need – that is, an empty seat in an office that is leased for a 2 year term.
12.

What is your guilty spending pleasure?
A:

Ah! Of course I do have one. It's luxury food. I would pay $100 for a simple meal that fills your stomach whereas pay $1,000 for fine dining with family and friends. They both serve my purposes and make me very happy. Knowing there are millions that go to bed hungry, I don't waste food, and have taken up the role of a constant supporter of various organizations aimed at alleviating social issues.
13.

IF you had ONE SUPER POWER…
A:

Charles Xavier – the power mind read! I'd use it to my advantage when speaking to my investors and when deciding how to deliver value for my customers. That'd be amazing!
——
Read More: Howard Chan Turns Hobby Into Global Action Figure Business
Read More: 4 Simple Tips to Spend Less on Your Credit Cards
Find more ways to save money on financial products like by navigating Moneyhero.com.hk. Visit MoneyHero.com.hk Blog for more money saving tips and financial advice. Don't forget to follow our Facebook Page!