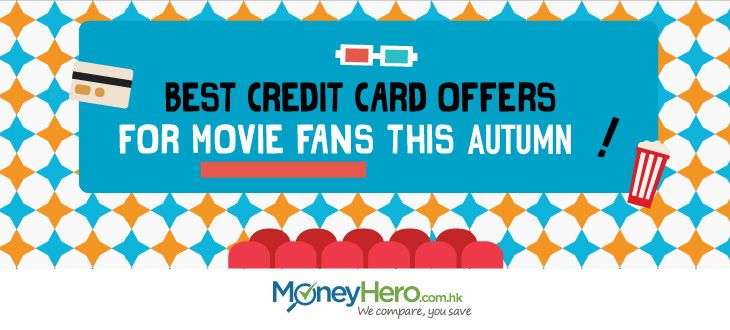 With a number of blockbuster hits coming to Hong Kong this autumn, such as the new James Bond movie: Spectre, and The Martian with Matt Damon, there's plenty of reasons to hit the theatres. The team at MoneyHero.com.hk have put together a list of the best credit card offers to help you save on each movie ticket purchase.
You can enjoy 20% discount on regular-price UA Cinemas movie tickets every day with 2,500 Bonus Points. This card would be perfect for you if you don't have time to queue up to buy the tickets and you don't want to pay the service charge for buying movie tickets online. You can enjoy a service charge waiver for just 2,500 Bonus Points per ticket when purchasing movie tickets online, via the UA Cinemas App or by phone. Apart from UA Cinemas, a 10% off on regular-price movie tickets is also offered at MCL Cinemas. For more details.
The Blue Cash Credit Card is said to be the most attractive credit card ever. Not only does it look nice, but it also has a lot to offer. You can save a lot with the 15% discount on all regular-priced and 3D movie tickets at Broadway, PALACE and AMC Cinemas.
From now til 30th November 2015, successful applicants for Standard Charted World Miles Card can enjoy 10 pieces of MCL‧STAR Cinema Gift Voucher or The Grand Movie Voucher.
Apart from these offers, movie lovers with credit cards listed on the following table can also enjoy a number of special discounts.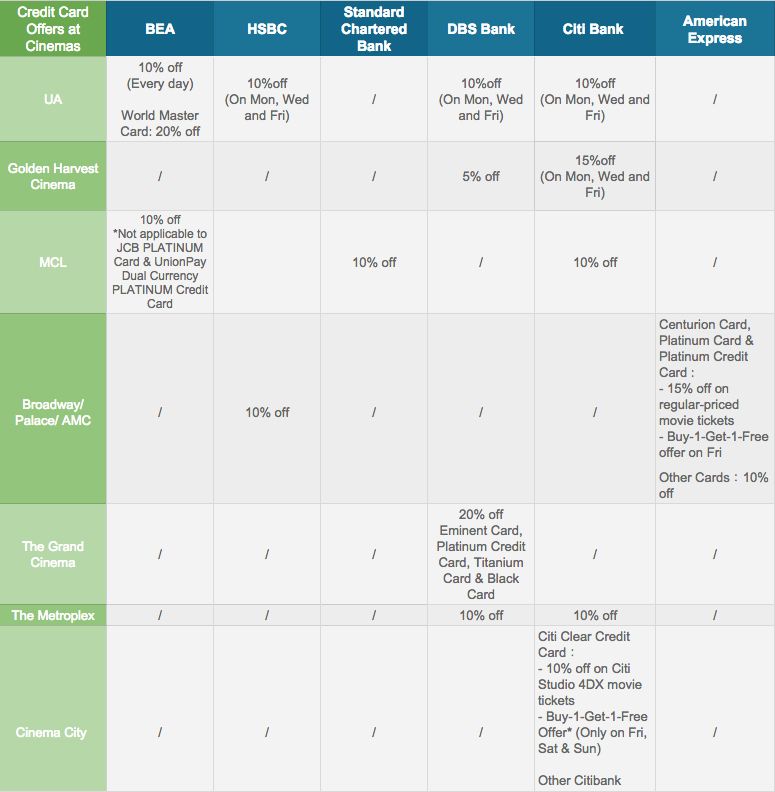 DBS offers year-round 10% and 5% discounts on regular-priced movie tickets at UA and Golden Harvest Cinemas respectively. But what's most appealing is that you can enjoy 20% off on The Grand Cinema movie tickets! As for CitiBank's ongoing promotional offers, you can enjoy 10% discount on Citi Studio 4DX movie tickets as well as Buy-1-Get-1-Free 3D and 2D movie tickets at Langham Place on Friday, Saturday and Sunday. These credit cards are definitely the must-have cards for movie lovers like you!
Read more: The Ultimate Guide to Online Shopping in Hong Kong (Summer 2015)
Read More: Which Credit Cards Let You Save on Movie Tickets & Earn More Air Miles?
—
Want to know more about different credit card offers? Check out our comparison portal to find the best deals in Hong Kong right now!
Visit MoneyHero.com.hk Blog for more money saving tips and financial advices. Don't forget to follow our Facebook Page!