One of the most important features of medical insurance is that it can cover your medical expenses when you are hospitalised. Hospital cover, also called hospitalisation cover or in-patient cover, helps provide you with a comprehensive solution for your healthcare needs.
Hospital charges can be significant here in Hong Kong, especially for expatriates. Information from the Hospital Authority shows that public charges for eligible persons on general acute beds are HKD 100 per day. In-patient costs at general hospitals for non-eligible persons, or those who don't have a Hong Kong Identity Card, can balloon up to HKD 4,680 per day, including maintenance fees.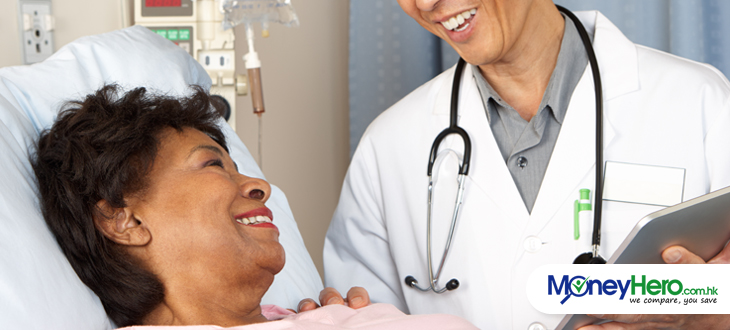 If given the choice, most patients would rather be prescribed medicines and sent home because they don't want to be faced with the expenses of being hospitalised. But there are just some medical conditions that require you to be hospitalised, and this is hospital cover on your medical insurance can be very useful.
Benefits Provided by Hospital Cover
Hospital cover is the most basic feature of medical insurance plans so most of the plans offered in Hong Kong would have this feature. The plans vary by the amount of hospital expenses covered.  Generally, medical insurance plans that have this feature will cover the following expenses:
Semi private or private room
Intensive care unit fees
Medicines received by you during your hospital stay
Surgery and other operating room charges
Diagnostic tests
Services of a private nurse
Exclusions of Medical Insurance Plan
Insurers would often like to avoid the moral hazard of having to cover expenses that stem from behaviour that are harmful to one's health. Therefore, many medical insurance plans will exclude coverage for expenses stemming from self-inflicted injury and drug abuse or alcoholism.
Insurers are also likely exclude mental disorders. Like other insurance products, health insurance plans may also exclude coverage for health conditions stemming from military events such as war, rebellion, or insurrection. It's also not uncommon for medical insurance plans to exclude pre-existing conditions from their coverage. Pre-existing conditions are medical conditions that occur or have already presented signs and symptoms before the start of the policy.
Medical Insurance Plans with Hospital Cover
Most plans offered here in Hong Kong have the hospital cover feature available. Bupa for example, has the Bupa CarePro medical insurance that provides full cover for hospital expenses with no limit.
GlobaHealth, InterGlobal, AXA, ALC, Globality, and Allianz are other medical insurance providers in Hong Kong that provide plans with hospital cover.
Ideally, you would want to find a medical insurance plan that provides the most benefits while paying a reasonably low premium. Policies with hospital/ in-patient cover start at just USD 279 for the William Russell Bronze plan for those aged 27.
To get an idea of other medical insurance providers that provide hospital/ in-patient cover and the price of the premium, you could compare 450 medical insurance plans from some of the best medical insurance providers in HK. Apply for medical insurance that fits your needs and budget directly online. You could also speak to an advisor if you have questions that you need to ask before you sign up for one. Compare medical insurance plans now and enjoy peace of mind.